Trending:
What the daughters of Kurt Cobain, Lenny Kravitz and other iconic rock stars look and do. Photo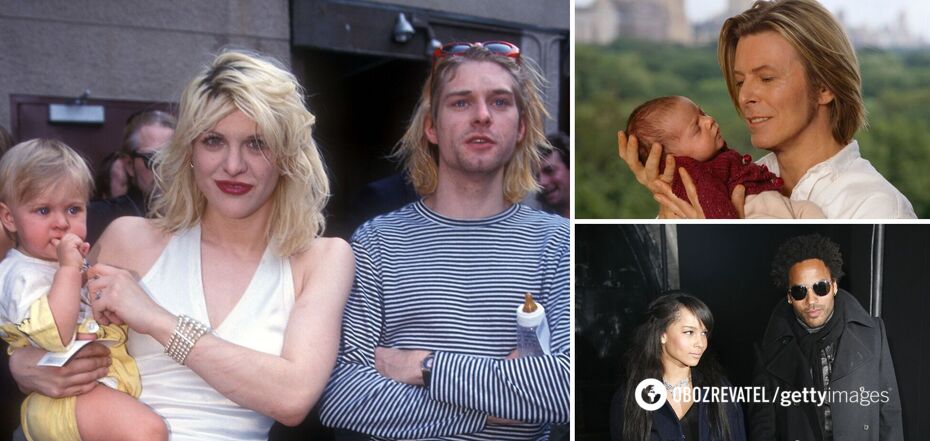 What the children of legendary rock performers do
Rock musicians are used to living for their own pleasure: shocking the public with pranks, having numerous affairs and abusing illegal drugs. All this, they say, is necessary for creative inspiration.
They constantly travel the world and spend dozens of hours in recording studios. When do these stars find the time to raise their kids? And do they find it at all? We tell in the article of OBOZREVATEL, how the daughters of the legendary rock musicians formed their destinies.
Eve Houston (31 years old).
Irish actress Eve Houston, known for her role as Lucy Elkins in the TV series "Knickerbocker Hospital", is the daughter of rock musician Bono, leader of the band U2. Her love of cinema awakened in the girl when she saw Steven Spielberg's "E.T." (1982). And at 18, she moved to New York, contrary to her parents' requests not to get involved with show business, to learn the art of acting. "They often said that people would not judge my talent in acting, but only my looks," Eve said in one of her interviews. Now the daughter of a rock musician has been able to succeed in the things she loves. For example, she starred in the adventure action film "Robin Hood: The Beginning" (2018) and in the film "Tesla" (2020).
Zoe Kravitz (age 34).
American actress, singer and model Zoe Kravitz is the daughter of American rock musician, singer, composer and actor Lenny Kravitz, author of the hit song "American Woman". It is interesting that the grandfather on the father side of Lenny came from a common Ukrainian family that moved to New York, and the great-grandfather of the celebrity was a native Kyiv citizen.
Let's return to Zoya. She spent practically her entire childhood in a musician's house. And even got the same tattoos on her arm together with him - the inscription "Freedom at last". In high school, at the age of 16, the girl founded her own music band, which later released an album of its own songs and collabs with the singer Miley Cyrus and rapper A$AP Rocky. Zoe has had no less success in modeling: she has appeared on the covers of ELLE, Teen Vogue and Vanity Fair. The filmography of 34-year-old Kravitz Jr. has more than 60 pictures, including "Fantastic Beasts" (2 parts) and "Mad Max: Fury Road" (2015).
Frances Bean Cobain (age 30)
American model, singer, artist, and journalist Frances Bean Cobain is the daughter of Kurt Cobain, the legendary musician, composer, and frontman of Nirvana. The girl lost her father quite early, at the age of 2. According to one version of the investigation, Kurt injected himself a dose of heroin incompatible with life and shot himself in the head with a shotgun.
Frances had been taking her first steps in music and journalism for some time. During this period, she did not get along at all with her mother, Courtney Love, who had been a drug addict for many years and had repeatedly beaten her daughter. Only in recent years, they began to spend more time together: engaged in art projects of painting, which put up for sale. Cobain Jr.'s work is dominated by dark hues, and she depicts monsters and semi-naked people as characters. It seems that the star was never able to work through the mental trauma of the early loss of her father.
Alexandria Zahara Jones (age 22).
Alexandria is the daughter of supermodel Iman and British rock musician, singer, producer, artist, and actor David Bowie. Her father is perhaps one of the most responsible of other rock performers. When his daughter was four years old, David suffered a heart attack. It changed his life forever. The man was terrified that the child might be without him, so he abruptly gave up bad habits, junk food, and started exercising. "I brought Alexandria into this world, so I want to be responsible for her fate," David said at the time. The celebrity devoted a lot of time to raising the girl. That continued until 2016. He passed away through liver cancer (during which time he suffered six heart attacks).
Earlier OBOZREVATEL wrote about 5 star daughters who grew up to be copies of their mothers.
Only verified information in our Telegram-channel Obozrevatel and Viber. Do not be fooled by fakes!