Trending:
"We haven't lived together for over 10 years": Oksana Bilozir reveals the truth about her divorce from her husband and their relationship after the breakup. Exclusive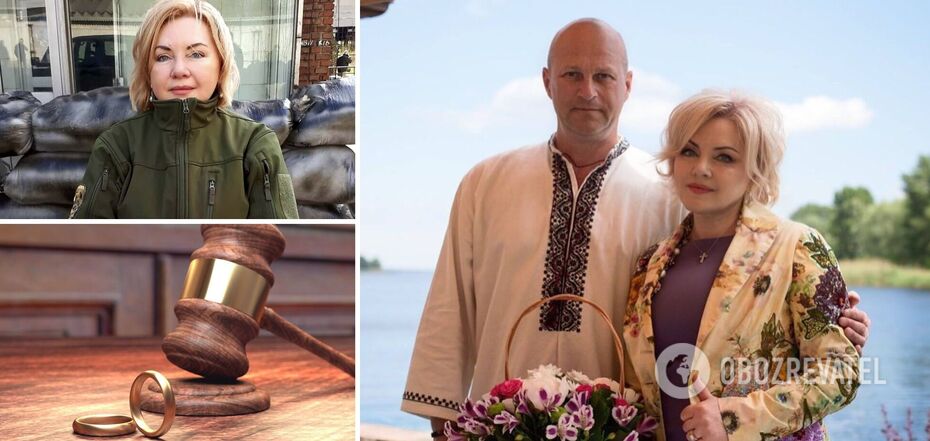 Oksana Bilozir commented on her divorce from her husband
Famous singer and former Minister of Culture and Arts of Ukraine Oksana Bilozir said she was proud of her husband Roman Nedzelskyi and remained on friendly terms with him despite the divorce in December 2022. According to her, this decision was balanced and expected, and the couple have not lived together for about 10 years.
In a comment to OBOZREVATEL regarding the information about the divorce, the artist assured that she and her husband had discussed everything in advance and managed to remain on friendly terms. However, her ex's words were taken out of context by the host, who was interviewing him.
"Let's start with the fact that there is no sensation here. Sensations are invented by people who should have taken up arms and gone to war, as Roman is doing. Because the whole sensation is that we have not lived together for more than 10 years. I live in a rented house, though all these years I have lived with his mother and our son, and he lives in our shared house on the Dnipro," said Oksana Bilozir.
The singer added that she did not appear in court herself. Instead, her lawyer went to check in. She made the decision to divorce because "the time has come to call the relationship what it is".
"Roman knew perfectly well, and we discussed it. We had been separated for about two or three months. No one was in a hurry, no one did anything impudent. Of course, the process itself is unpleasant. Do you think this decision is easy at my age? You need to always have order in your life and clearly understand what is what. And the war has nothing to do with it. It all happened a long time ago. It was all hyped up, a surprise. I just felt funny about it," the artist added.
The singer blamed the media for the incorrect presentation of information and the fact that the words about the couple's relationship were taken out of context by the interview host.
"It was all so let down by the host who interviewed him. We started the conversation in a completely different way: how to serve, how to fight. Roman is a wonderful and reliable friend for me. We communicate, his children love him, his grandchildren love him. The fact that we ended our relationship is our personal and private matter. It is ridiculous and strange for me to make some kind of PR on this. There is a war going on now, and instead of voicing the positive aspects, they grabbed some emotional moment and spun a whole story around it. Everyone has the right to emotions. Maybe she was in a bad mood, maybe some wave came up," the commentary reads.
Oksana Bilozir also added that she was certainly proud of Roman. According to her, he did not wait for the war to start, and in January 2022, he went to serve himself.
"He is a commissioned soldier, so he shouldn't have gone due to his health condition. But it was his calling. Therefore, to pay attention to some emotional waves that he has now is not fair even to his position and what he is doing today, like many of our men. I am proud of him," the artist said.
In addition, it is known that Bilozir cooperates with the Ukrainian American Women's Union. This is an organisation of Ukrainian-American women that has existed for over 100 years. Since the beginning of the war, it has been working fruitfully and helping Ukraine in the context of cooperation with military hospitals. As the singer told us, their priority is traumatology.
"When the war is over, we will see so many disabled people. The Union passes on the latest world achievements in the preservation of arms, legs, bones, heads and everything related to the spine. I am authorised by this Union to pass all this on here, to control it. In addition, they organise annual festivals near New York. I also performed at these festivals. This was my contribution, as well as to raising funds for the purchase of these drugs, trauma devices. This is many tens of millions of dollars since 2014. We have already brought most of it - more than two million dollars - to Dnipro, to Bila Tserkva, to our military hospital. I still have Zhytomyr left, where I will go soon," added Oksana Bilozir.
We would like to remind you that the other day, the former director of the Palace "Ukraine", and now a military man, Roman Nedzelskyi, said that he had divorced singer Oksana Bilozir. According to the interview, he allegedly said that he was against the divorce and could not appear in court because of his military service.
Earlier, OBOZREVATEL wrote that singer Natalia Karpa commented on rumours of a divorce from Ukrainian Armed Forces serviceman Yevhen Terekhov, alias Titanium Jackson. Read more about it in our material.
Only verified information is available in our Obozrevatel Telegram channel and Viber. Do not fall for fakes!