Trending:
Wave of unity: digital solidarity campaign for Eurovision unites Ukrainians and Brits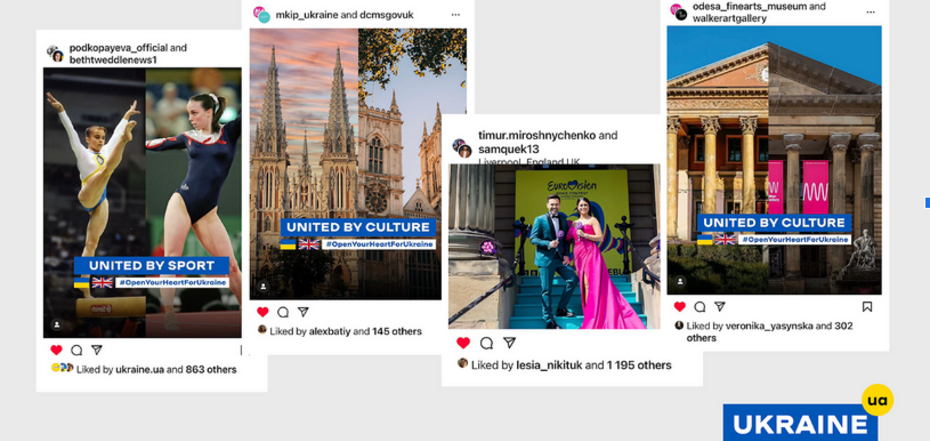 The digital solidarity campaign #TheUnityWave has started
This year's Eurovision Song Contest 2023 is being held in Liverpool, UK, due to Russia's war against Ukraine. It is the first time in the history of the Eurovision Song Contest that it is being held on behalf of another country. Ukrainians are grateful for this support and have thanked their British partners in a creative way.
The aim of the campaign is to show solidarity and unite the people of Ukraine and the UK.
On Instagram, Ukrainian and British showbiz stars, athletes, politicians and even institutions and organisations are posting jointly about what unites the two countries and calling on people to open their hearts to Ukraine.
The campaign has been joined by singers Jamala and Birdy, hosts Timur Miroshnichenko and Samantha Quek, the National Opera of Ukraine and the Royal Opera House, the Odesa Art Museum and the Walker Art Gallery, the Ministry of Culture and Information Policy of Ukraine and the Department for Culture, Media and Sport UK, and titled gymnasts Lilia Podkopaeva and Beth Tweddle.
The organisers invite Ukrainians to join the campaign in one of two ways:
Use the Ukraine.ua filter with Ukrainian and British flags in the shape of hearts and make a story on the Instagram page, where you can tag your British friends, colleagues or partners and the Ukraine.ua page so that the story is highlighted on the official page of the country and use the hashtag #TheUnityWave;
Make an Instagram story using the Ukraine.ua filter in the form of Ukrainian-British hearts, add the hashtag #TheUnityWave and tag @ukraine.ua to be highlighted on the official page of Ukraine;
Make a joint post using the Instagram sharing tool with a British friend, colleague, partner, organisation or company.