Trending:
"Under the rubble was found a former student of his mother and his 10-year-old sister": Ostapchuk, originally from Uman, told new details of the tragedy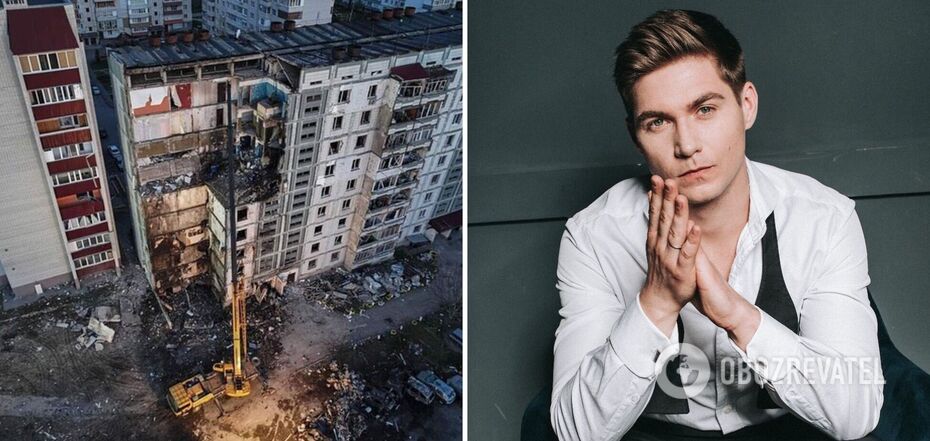 Volodymyr Ostapchuk, originally from Uman, gave new details of the tragedy
The famous Ukrainian TV presenter Vladimir Ostapchuk was born and raised in Uman, in the exact neighborhood where a Russian missile flew in on April 28, destroying a multi-story apartment building. This entrance, as the showman himself said, he saw for years from the window during his school days. By the way, the celebrity's mother worked there as an elementary school teacher. During a terrible tragedy, one of her former students died.
For example, the 16-year-old boy whose body was found under the rubble by rescuers was in Inna Vladimirovna Ostapchuk's class. His little sister, who was only 10 years old, also died at the hands of the Russian occupiers. The TV presenter told about this on his personal page on Instagram.
According to Ostapchuk, he knew the area in Uman, where another act of terrorism by Russia took place, like the back of his hand. His childhood friends lived next door to the house destroyed by the occupiers.
"The photo shows the house I saw from my school all the years I studied and the yard I know by the centimeters. In the next doorway lived once my best childhood friend Kostya, next door lived Max, Vanya and Andryukha Ryzhkov. Here, next door, in my mother's native school, number 5 named after Chuikov, on the third floor, there is an office of my mother, who still works as a teacher of elementary school. Yesterday her former student, who had just turned 16, and his 10-year-old little sister were found under the rubble. Their apartment was on the 9th floor", - shared the showman.
Also found under the rubble an entire family, with whom the Ostapchukes were friends - no one survived.
"They didn't just hit an apartment building (only garages are nearby), they hit the nerve of the whole of Uman," summed up the host.
Recall that in Uman, they completed the removal of the rubble of a high-rise building destroyed by a Russian missile the day before, on April 28. Six children were among the dead. A total of 23 bodies were found under the rubble. All of them were identified.
Eyewitnesses who managed to survive that night shared their memories of the tragedy. People say that the house shook from the impact.
As OBOZREVATEL wrote, the legendary American writer Stephen King reacted to the missile strike on Uman. "King of horrors" called the actions of the aggressor country in Ukraine not a war, but real terrorism.
Only verified information on our Telegram channel Obozrevatel and Viber. Do not be fooled by fakes!