Trending:
Ukrainians shamed the organizers of Eurovision 2023 because of Ruslana's "underperformance" in the finals: what the singer says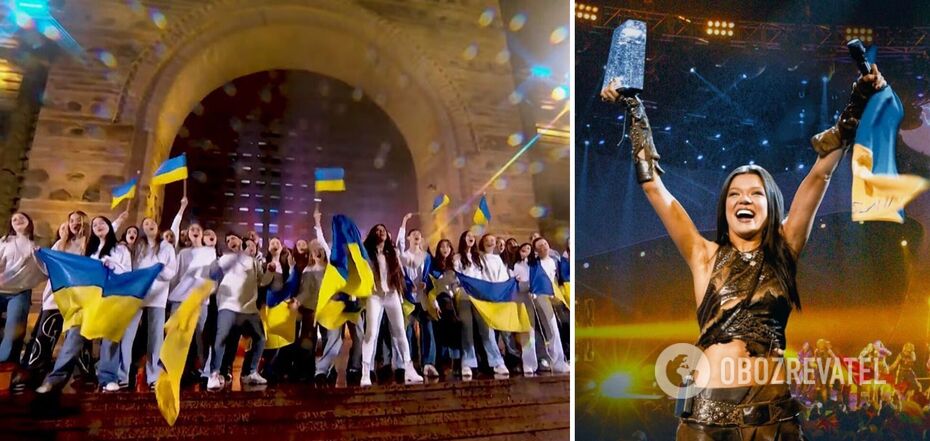 Ukrainians shamed the organizers of Eurovision 2023 because of Ruslana
On May 13, Liverpool hosted the grand final of Eurovision-2023, during which the brightest Ukrainian artists, who represented our country at the Song Contest in different years, took to the stage. Thus, eurofans saw Verka Serdyuchka, Jamala, Tina Karol, Kalush Orchestra and Go_A, but Ruslana, who became the first winner of Eurovision from Ukraine, was not on the list. Earlier, this topic provoked a scandal on the network, but the organizers assured that the singer will appear in the grand final.
And indeed, the organizers didn't lie - Ruslana was shown on the screen during the performance of 2010 Eurovision winner Duncan Lawrence from the Netherlands. The video with our artist was silent and lasted about 5 seconds. Ukrainian Eurofans were outraged by this, and they actively write about it on the Eurovision Ukraine page in Instagram.
While Lawrence was singing his song, the screens showed a video of Ruslana with a group of Ukrainians holding blue and yellow flags singing along with the Dutch musician at the Golden Gate in Kyiv. But the sound on the video was absent or almost inaudible for some unknown reason.
Ukrainians don't understand how the organizers could have ignored Ruslana and her victorious "Dyki Tanci". In the comments they leave: "Ruslana flashed the flag twice on the air, and that was it. It's sad" and "I don't understand why Ruslana was not invited. She was the first one who made Ukraine famous at Eurovision. There was room for everyone except her", "Shame on the organizers. The brightest winner, Ruslana, was not included in a normal performance at Eurovision", "I'm speechless", "Are you serious? This is the 'important mission' of Ruslana that you were talking about", "I can imagine how offended she is", "How many people were on that stage, and one single Ruslana could tear up that show and all the performers, including Loreen".
However, Ruslana herself responded to the "ignoring" of the organizers calmly and even nobly. On her Instagram account, she posted a photo of herself in her famous pageant costume and wrote, "It doesn't matter what stage you're on, what matters is the audience and that you have something to say."
It should be noted that OBOZREVATEL conducted a text online broadcast of the final of Eurovision-2023. All the key events of the broadcast are in our story.
We also told:
- What place did Ukraine take at Eurovision-2023.
- What the winning song of Loreen is about and why she was accused of plagiarism.
- How viewers voted and why their votes changed the standings.
- Who gave Ukraine 12 points and who was awarded the highest score by our national jury.
Only verified information on our Telegram-channel Obozrevatel and Viber. Do not be fooled by fakes!