Trending:
They will turn your hair into "tow": 3 worst hairstyles in the heat that look ridiculous and kill curls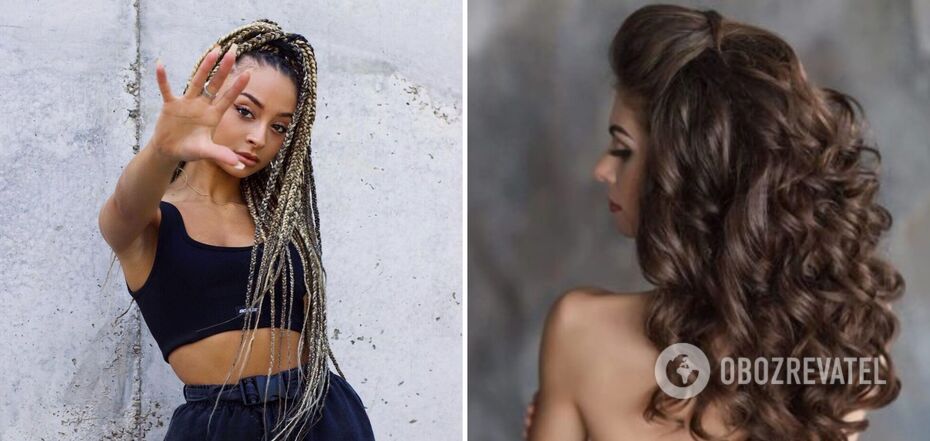 The worst hairstyles in the heat that look ridiculous and spoil your hair
It's no secret that in summer, women's hair faces a number of challenges, including high humidity and sweating, heat and merciless sunlight, and, if you're on holiday at a seaside resort, salt water. All this spoils not only luxurious curls, but also the scalp. Most often in summer, beauties prefer light hairstyles, but sometimes they make mistakes.
There is a whole list of hairstyles that you absolutely cannot do in the summer if you don't want to ruin your hair forever. OBOZREVATEL will tell you about the three most common ones.
Afro braids
Girls think that African braids are the perfect option for the summer, both from an aesthetic and pragmatic point of view. And if you've been on holiday at domestic seaside resorts, you probably remember the picture of such braids being woven right on the beaches. However, there are a number of reasons why it's a bad and even dangerous idea to make such a hairstyle for the hot summer. Firstly, afro braids take a very long time to dry, and with constant blow-drying, there is a risk of turning your curls into "tow". And forcing your hair to dry naturally is a great strain on the roots. In addition, Afro braids expose the scalp very much. Under the scorching sun, if you forget your headgear, you can get burns and seriously harm your health.
Bake combing
Back combing is a bad idea at any time of year. Regular such manipulations with hair seriously damage it. The strands are injured, and in the heat and by the sea, they create a favourable environment for the growth of bacteria. Then don't be surprised at dandruff. Very often, girls use varnish and other various sprays to keep their hair in place. In summer, you should avoid such products if you don't want to get dry, dull, lifeless and damaged hair.
Complex and tight styling
Hardly anyone wears this hairstyle in summer on everyday days. However, no one has cancelled birthdays, parties and weddings. Firstly, such overloaded hairstyles with large volumes have long been out of fashion. And secondly, complex and tight intricacies, fixed with layers of varnish, seriously damage the hair. Give your hair a rest, and light curls will look no worse than steel curls with a high pile.
As OBOZREVATEL told you, there are hair shades that you need to forget about after 40 years. They will emphasise age-related changes and reveal that you have not been following fashion for a long time. Among them are ash blonde and red. To learn more, follow the link.
Only verified information is available in our Obozrevatel Telegram channel and Viber. Do not fall for fakes!