Trending:
"They will go through hell": Loboda provoked a strong reaction from Ukrainians with an emotional speech at a concert in Latvia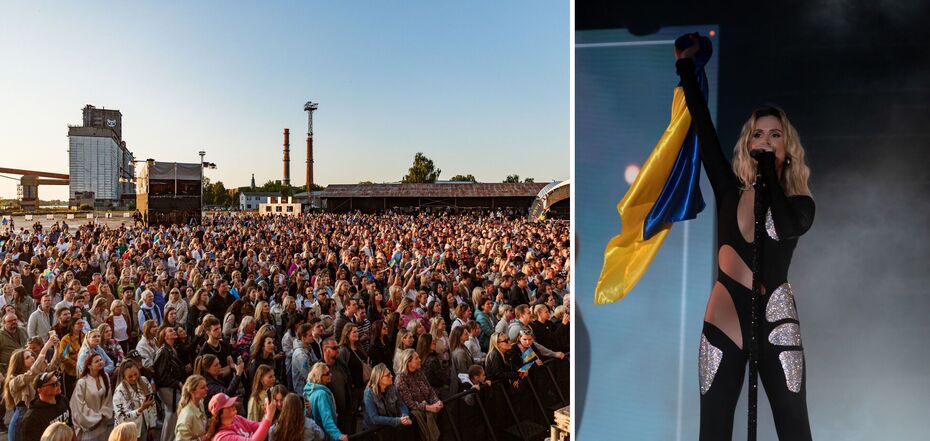 Svetlana Loboda predicted hell for the Russian Federation at her concert in Riga
A year after the previous full house, LOBODA again gave a concert in Riga, where almost the entire local Ukrainian community gathered. The hall was full of Ukrainian flags and the line to the stage stretched for several hundred meters.
"We are very grateful to Svetlana for her tremendous help to Ukraine. Not a day does she stand aside from our common misfortune. I'm really looking forward to seeing her solo show at home, in peaceful, free Ukraine," said displaced woman Yulia from Kyiv, who was the first to get a front-row seat, to local media.
On stage there were performed not only new songs from the fresh album "Made in U", but also famous Ukrainian hits: "No one needs it", "Po-Ukrainski", "Molitva".
Throughout the show Svitlana Loboda addressed the audience several times - thanking Latvia for support, encouraging to help even more and commenting frankly how she felt after another wave of Russian terror. The singer also reminded that part of the proceeds from the concert will go to help Ukrainians from Kherson and the surrounding area who suffered from the explosion at the Kakhovka hydroelectric power plant.
"For more than a year in my country, in my Ukraine, there has been a merciless, horrible, unjust war, Russian soldiers killing our children, women and men. I know that Latvia supports Ukrainians and helps us. I am very grateful. A few days ago there was another terrible tragedy - an explosion at Kakhovka hydroelectric power plant and I thank each of you because you are involved in a big thing - supporting people who lost everything and now need help" - LOBODA addressed the audience
The singer was called out several times and appeared on stage again, performing the legendary song "Shchedrik" by Leontovitch. In the introduction to the song LOBODA once again reminded fans that justice be and this war will not get away with the Russians.
"Through hell must go those who have disturbed the peace of our land, our Ukraine. Those who kill, those who come to another's land and do not understand what they are doing. But the time will come and everyone will surely get their due," the singer said.
Loboda's final word at the concert was a loud "Glory to Ukraine," so from the stage Svetlana walked to applause and shouts of "Glory to Heroes."