Trending:
Their confessions shocked many: five famous actors and directors who have changed their sex. Photo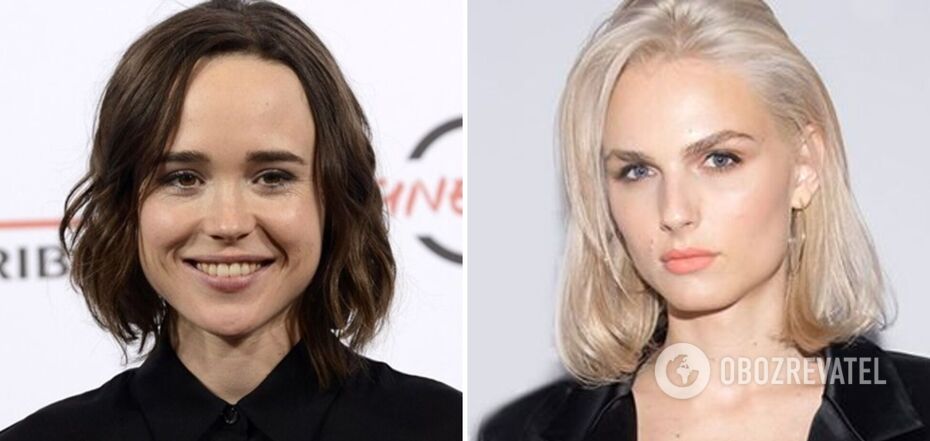 Ellen Page became a man and Andrzej Pezic became a woman
A sex change is a pretty desperate move, especially if you are a public figure. However, a lifetime of feeling out of place is worse than taking a risk once and being happy. And although we live in an age of tolerance, not everyone can admit their non-traditional orientation, and dare to turn from a woman into a man or vice versa. OBOZREVATEL will remember with you who radically changed to satisfy their inner self. These celebrities stopped kidding themselves and did not want to live out of their bodies anymore (to see the photos, scroll to the end of the page).
Ellen Page
The famous Canadian actress, who starred in "Juno," "Inception," "X-Men" and "Umbrella Academy," said in 2020 that she was tired of being a woman. After that, the artist began positioning herself as a man and stopped hiding her relationship with her girlfriend. According to the British magazine Dazed, Elliot Page (Ellen's new name) is the most famous trans man in the world today. By the way, she went under the knife of a surgeon, which surprised fans.
Roderick Cox
American actor, director, producer and LGBT activist Cox, now better known as Laverne, knew from a young age that he was born in the wrong body. From a young age, Roderick had a passion for sequins, lipstick, and feminine imagery. That's why the man switched genders and continued to fight for the rights of similarly unconventional individuals. Now Laverne is 50 years old. She became the first transgender actress in the history of cinema to win an Emmy for her role in Orange is the Hit of the Season.
Andrej Pezic
Andrej Pezic, 31, has become one of the most famous transgender actresses. The actor was born in Bosnia and Herzegovina, but moved to Australia because of the war in Yugoslavia. There he began modeling and shooting for both men's and women's collections. After gender correction, Pezic limited himself to women's shows.
Chastity Bono.
The daughter of singer Cher declared 30 years ago that she liked girls and wanted to change her gender to male. After that, Chastity started calling herself Chaz and undergoing hormone therapy. Even the extra pounds she gained during the procedure didn't discourage her desire to become a guy. Looking at Bono now, it's hard to imagine that he was once a woman. The selebrity is involved in filmmaking and takes part in a variety of projects.
Robert Arquette
The famous American actor Robert Arquette decided to change his sex at the age of 38. He began to undergo hormonal procedures and a year later he turned into Alexis. Few people know, but the actor at the age of 18 was infected with HIV. Amid increasing complications, he reintroduced himself as a man in 2013. On September 11, 2016, the star passed away at the age of 47. The cause of death was a heart attack caused by myocarditis in the background of HIV.
Recently, OBOZREVATEL reported which stars were killed by unsuccessful plastic surgery. British singer and lead singer of "Dead or Alive" Pete Burns has had about 300 surgeries in his life. He decided to bring his image closer to that of a woman, but he ended up looking like a monster.
Only verified information on our Telegram-channel Obozrevatel and Viber. Do not be fooled by fakes!