Trending:
Supernatural beauty: models who turn features of their looks into their main strength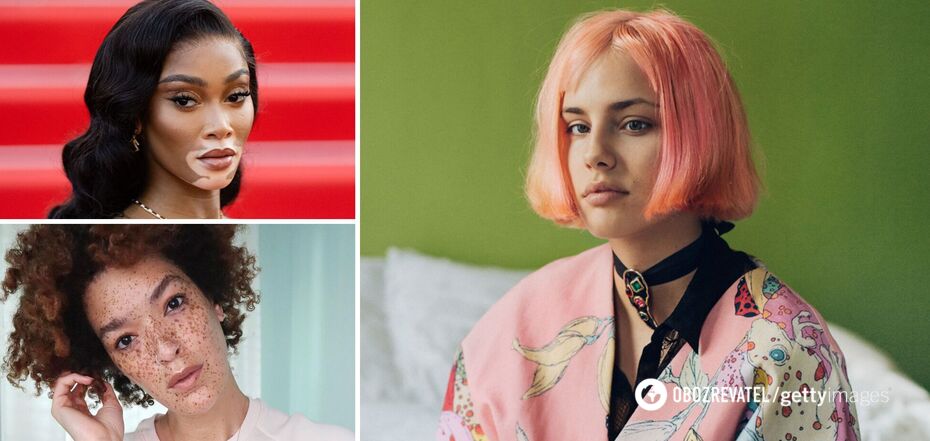 For many years, the Victoria's Secret brand was synonymous with luxury fashion and the ideal of feminine beauty. However, in recent years it began to be criticized. First of all, for its limited idea of aesthetics. Models with almost the same parameters always defiled the catwalk, not women with different types of figures.
Secondly, the brand ignored showing different cultures and ethnic groups for a long time. Only in recent years has it started to make changes. Purely to clean up the reputation a bit.
While society and activists are fighting for brands to expand the idea of women's multi-faceted charm, game-changing girls are emerging in the fashion world. Using their example, they show that unique looks are cool, not something to be embarrassed about. Read more about them in the article by OBOZREVATEL.
Chantelle Brown-Young.
This Canadian model is better known under the creative pseudonym Winnie Harlow. At the age of 4, she was diagnosed with vitiligo (discoloration of certain areas of the skin due to the loss of pigment in them). And given the fact that Chantelle is dark-skinned, the appearance of blond spots is especially noticeable. Once the girl was complex because of this feature, and in adulthood she made it her calling card. Now she has become an internationally famous model.
2. tando Hopa.
Tando Hopa is a South African model; the first woman with albinism to make the cover of Vogue. She does not fully devote herself to modeling. In her spare time, she is an advocate for people's rights in African countries.
3. nikia phoenix
American model Nikiya Phoenix has tan skin, afro-curls, and freckles that cover her entire body. Her unique appearance was noticed by a member of Alternative Apparel when she walked into a small café. That encounter changed the girl's life forever. She has built a successful modeling career and inspires other women to love themselves for who they are.
4. Moffie Gathorn-Hardy.
Model Moffie has strabismus. But thanks to her mother's constant support, she never had complexes about it. She knew she was beautiful and special. In 2013, she was invited to work with the modeling agency Storm Models, where supermodel Kate Moss once began her career. Since then, Gathorne Hardy has not only appeared on catwalks but also on the covers of fashion magazines.
5. Nyakim Gatvech.
This is an American model of South Sudanese descent. Nyakim is known for her naturally dark skin color, for which she has been called the "Queen of Darkness. She has repeatedly faced self-esteem issues and comments from people agitating to bleach her skin to have a lighter color. "My chocolate color is perfect. Like the nation I represent, it's beautiful," Nyakim once told one of her offenders, a cab driver.
Earlier OBOZREVATEL wrote about how supermodels looked at the first castings.
Only verified information in our Telegram channels Obozrevatel and Viber. Do not be fooled by fakes!