Trending:
Singer-soldier Zhenya Galich could hardly hold back his tears when talking about his separation from his children and his family home in the line of fire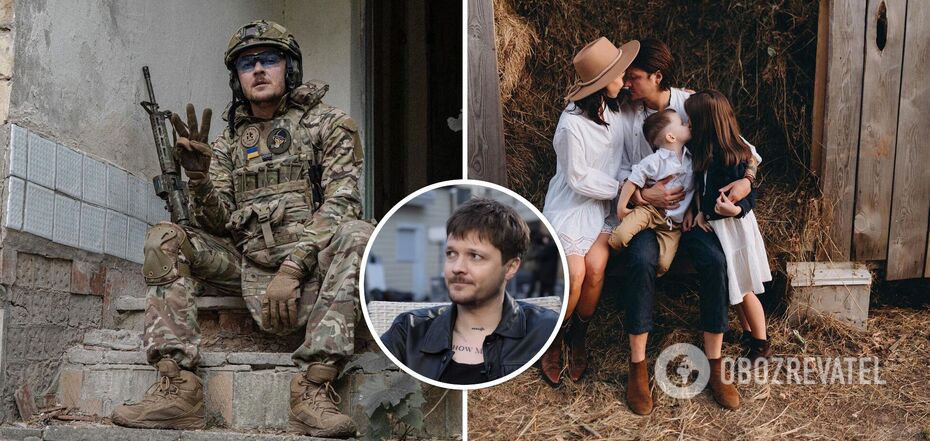 Popular Ukrainian musician Zhenya Galich, who went to defend his homeland at the front line after the full-scale invasion, admits that it is hard to be separated from his family. Talking about his children and spouse, who have been living in Warsaw for over a year, the frontman of the rock band O. Torvald can hardly contain his tears - he says that rockers do not cry, but takes his eyes off the camera and sighs heavily.
At the same time, the artist does not want his children and wife to come home. Now he is concentrating on the military case, so he hopes to bring victory to our country in the war as soon as possible and then meet his family in peaceful Ukraine. Galich shared his thoughts and experiences in an interview with ZhVL.
"It's hard for me. Definitely hard. I'm well aware that I'm losing time as they grow and develop. I wish I could be there to teach them something. But I feel like I have to be responsible for myself and my charges, but definitely not my kids and wife, because that responsibility makes me weaker... We don't want to traumatize ourselves and we don't want to traumatize the children. I would like them to come back after they win. And we went to the Crimea together," Galich shared.
Such a strong desire to leave children abroad was also justified by the fact that the musician's family home near Kyiv, not far from the Zhytomyr highway, was in the line of fire at the beginning of a full-scale invasion. Volunteers rescued little Eva and Daniil, wrapped in a blanket, simply under enemy shells.
"My neighbor was shot. Just in the back... Our house survived by a miracle. There was fighting there," the singer-warrior shared.
As written by OBOZREVATEL, previously Zhenya Galich assured that he can not and does not want to call himself a hero. However, according to the O.Torvald frontman, many of his colleagues deserve such a status, who also serve in the armed forces. You can read who they are in our material.
Only verified information in our Telegram channels Obozrevatel and in Viber. Do not be fooled by fakes!