Trending:
Passed through the pain, but did not break: how the fate of the famous beauties who were poured acid. Photo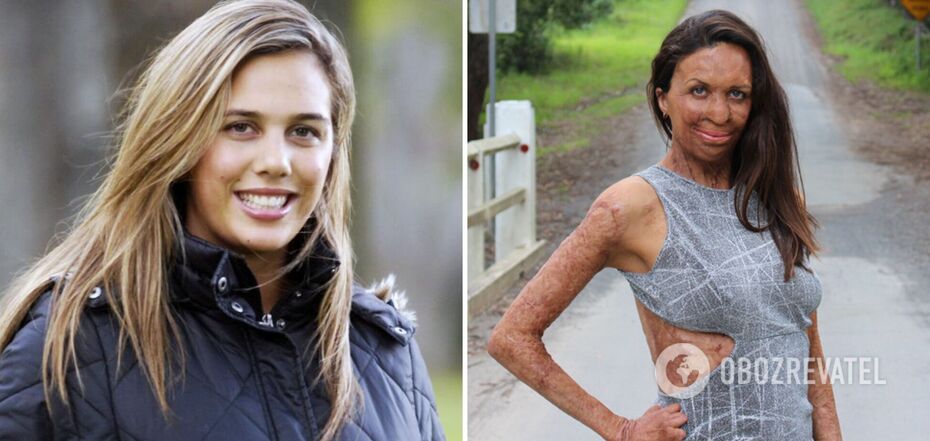 Women who were doused with acid
Female envy, male jealousy or just an accident are the reasons why some women had to say goodbye to their outer beauty forever. This happened because of the sulfuric acid that was splashed in their faces and on their bodies. However, their love for life and inner beauty helped them overcome all the difficulties and, despite everything, meet their soulmate, build a successful career, and become an inspiring example for many people who can not accept themselves.
OBOZREVATEL decided to tell the stories of famous beauties who were doused with acid. About how they were changed by the tragedy, and how their fate - read in our material.
Katie Piper
Katie Piper was a successful photo model and journalist in England. Her life changed after she met 33-year-old Daniel Lynch. The couple began communicating online, but their correspondence quickly developed into feelings and relationship. However, the man turned out to be mentally unstable. He was increasingly observed outbursts of anger, which grew into real attacks. Cathy was frightened by this, so she decided to break up with the boyfriend. Lynch this, to put it mildly, did not like it: first he locked the girl in the apartment, beat and raped her, and the next day his accomplice Stefan Sylvester splashed in the face of the beauty of sulfuric acid.
Piper after the incident has undergone many surgeries on the face, but the vision in her left eye she was not able to restore. Despite this, the girl did not put her hands down. She became a blogger, and now she is followed by more than a million people on Instagram. Katie also wrote a book "Beauty", which became a bestseller in many countries. The woman also realized herself as a loving wife and mother of two children.
Dana Woolin
The story of Australian Dana Woolin stirred the world in 2012. She suffered at the hands of a woman who noticed the blonde talking to her husband. The jealous woman accused Dana of seducing her chosen one, and a few days later with her friend broke into the house of the "rival", doused her with a flammable mixture and set her on fire.
The Australian suffered 64% third-degree burns to her body and underwent about 200 cosmetic surgeries. Now she also keeps her blog, which is followed by about 35 thousand people, and also opened her own cosmetology center, which helps girls to become even more beautiful.
Lakshmi Agarwal
Lakshmi Agarwal, an Indian girl, was a real beauty who was chased by all the boys at school and beyond. Her classmate's 32-year-old brother fell in love with the 15-year-old girl and asked her to marry him. Lakshmi refused, for which the offended man decided to take cruel revenge by pouring acid on her. After that, the young beauty spent 10 weeks in the hospital. Doctors were forced to remove all the skin from her face, which completely changed her appearance. After that, Agarwal practically did not leave the house for another eight years, she did not make friends and could not get a job.
However, the girl's life changed when she met other such victims. Among them was a journalist who campaigns against acid attacks, Aloka Dikshita. He became Lakshmi's husband, to whom she gave birth to a daughter. The Indian woman is now helping other people who have gone through the same grief as her find happiness. In addition, Lakshmi is starring in advertisements for domestic brands, showing the world that beauty can be different.
Lalita Ben Bansi
In 2012, a young girl from India had an argument with her cousin at her brother's wedding. She slapped her opponent in the conflict, to which the young man was very offended. Two weeks before the wedding of Lalita himself, he poured acid on the offender. Subsequently, the girl underwent 17 operations to restore her appearance. Physical suffering was accompanied by the fact that the girl's lover did not accept her changes and refused to marry.
The Indian never thought to find happiness and marry again, but fate had completely different plans. Once the girl made a wrong number and called the wrong guy, who literally fell in love with the voice of his interlocutor. He himself called Lalita back and offered to get acquainted closer. The girl admitted that she was a victim of an acid attack, but the young man was not embarrassed by this at all. This casual phone conversation led to a loud and lavish wedding, which was attended even by Bollywood stars.
Turiya Pitt
But Australian Turia Pitt suffered not from human hands, but from a powerful natural disaster. In 2011, she became a victim of a large-scale steppe fire. The girl's body was badly damaged: 64% of its surface was burned. However, doctors doubted that Turiya would survive with such injuries. However, despite the disappointing predictions, Pitt did not give up. She lost eight fingers, spent two years in the hospital, underwent more than a hundred operations, but did not lose faith in life.
An important support all this time for the girl remained Michael, who was her boyfriend since her school years. Today, Pitt enjoys an active lifestyle: biking and surfing, working and helping those who have survived similar fires. In 2015, she married Michael, and in 2017 they had a son.
As OBOZREVATEL wrote earlier, the popular Ukrainian singer and bandura player KRUT for the first time told how at the age of 8 years overturned a portion of boiling water and earned burns of 3-4 degrees. The scars remained on the performer's body for the rest of her life. For a long time she could not accept them, and therefore carefully hid them. However, the star dared to show her body to fans.
Only verified information from us in Telegram-channel Obozrevatel and Viber. Do not fall for fakes!