Trending:
No reason to be complex: 7 effective ways to hide your belly with clothes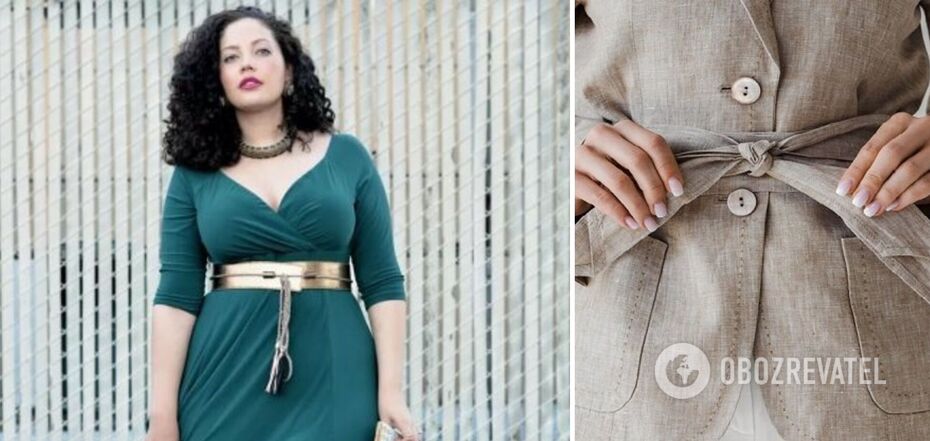 The high waist will be your best friend
Every girl's dream is to have a toned body, even though they know that men don't like steel abs in their significant others. Clothes can be your best friend if you want to disguise a protruding tummy. Dense fabrics, verticals and the basque effect will make the owners of a curvy figure look more petite.
The fashion blog Vogue_history has suggested some life hacks on how to act if you have a problem area called a tummy. OBOZREVATEL will teach you how to choose the right clothes.
1. Thick fabrics
To hide a bulging belly, buy clothes made of thick fabrics that will not tighten your figure. Do not get carried away with oversized sizes, because they can make you look even more massive.
2. High waist
Accentuate your waist with a belt by sliding it a little higher than the proper place. You will immediately see how the outline of your figure changes. But this does not mean that the waist should be moved under the chest.
3. Verticals
Forget about horizontal lines and wear clothes with vertical stripes. If you combine this method with a high waist and a semi-fitted fit, you will get a fantastic result.
4. Basque effect
A universal option for girls who are shy about their tummy. This product will turn your figure into an hourglass, which will delight the stronger sex.
5. "Dark on the outside, light on the inside" method
A slightly tricky but effective way to make the fair sex more confident. Wear an inner layer of light-coloured clothing, such as a white or beige turtleneck, and a black jacket on top. Choose dark trousers or jeans.
6. Camouflage print
To shift the attention of others away from the problem area, highlight another, your advantageous part of the body. For example, if you have long legs, wear an elegant skirt or trousers with an interesting print. In addition, a print with large details will blur the volumes.
7. Dresses
Choose dresses made of dense fabrics that will not tighten you. An ideal option would be an a-line or straight cut piece of clothing with a belt at the waist.