Trending:
No belly button, big eyes and more: 5 beauty anomalies that mesmerize. Photo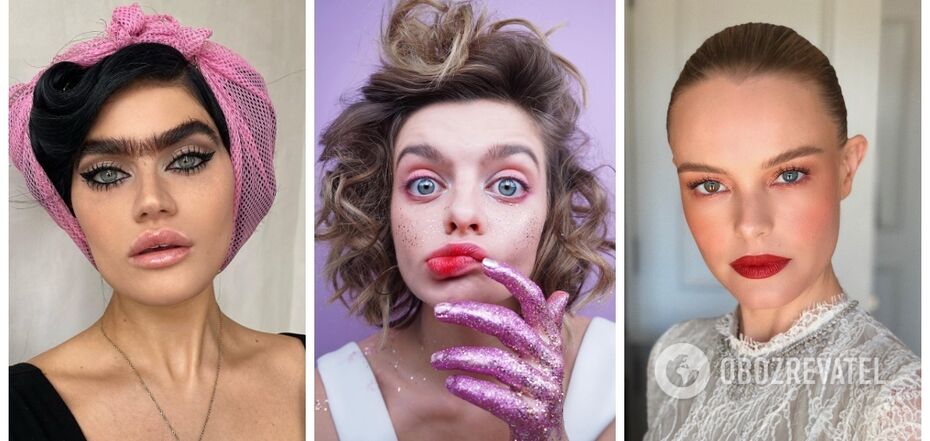 Women with supernatural beauty.
Being different is not a reason to be insecure, but a good fortune. Some women were born with a genetic mutation: heterochromia, big eyes, albinism, etc. They fell in love with their uniqueness, and proved that humanity must accept not only canonical beauty or objective talent, but also peculiarities in appearance.
Who turned their "highlights" into strengths? Read in the material OBOZREVATEL.
1. Maria Oz
Ukrainian model, visual artist and director of animated videos Maria Oz has large expressive eyes. This effect is enhanced by her pointed facial features and pouty lips. She works with Oh My Look and G.Bar, a popular dress and accessory rental service. When a girl on social media is accused of using photoshop, she posts several pictures from different angles to prove that everything is natural.
2. Sofia Hadjipanteli
Greek-Cypriot model Sofia Hadjipanteli has an incredibly thick monobrow that she doesn't pluck on purpose, and she also encourages growth. After all, it's her pride. The celebrity created the hashtag #UnibrowMovement, which unites beauties similar to the legendary artist and writer Frida Kahlo. Sofia does not rule out that she will change the shape of her eyebrows at some point. But only of her own free will, and not under the pressure of someone else's beauty standards.
3. Jianxia
Chinese woman Yu Jianxia has made it into the Guinness Book of World Records for her long eyelashes - 20.3 centimeters. The woman has to put them to the side, so it may seem that she has drawn very long arrows for herself. The lashes began to grow rapidly not so long ago, in 2015. And since then, no doctor has been able to explain why this is happening.
4. Kate Bosworth
If the American film actress and fashion model Kate Bosworth had been born a few centuries ago, she would have been called a witch. All because of heterochromia (lack or excess of melanin in the iris): she has eyes of different colors. Fortunately, today it is not something supernatural, but is perceived as charm.
5. Karolina Kurkova
The Czech supermodel best known as Victoria's Secret Angel, Karolina Kurkova does not have a belly button.
OBOZREVATEL previously wrote about LP, Lady Gaga and other stars with androgynous looks.
Only verified information on our Telegram channel Obozrevatel and Viber. Do not be fooled by fakes!