Trending:
Never do that! Five manicure mistakes that cause nothing but trouble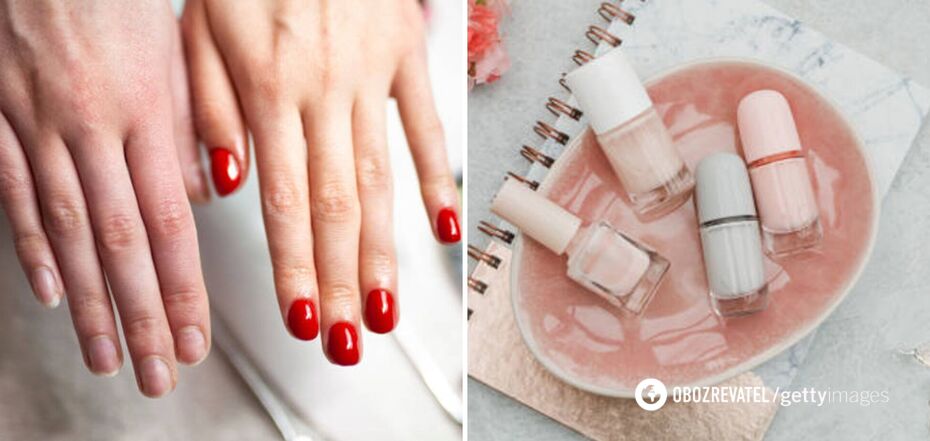 Hands - the business card of a lady
Many girls prefer to do their own manicures. The reasons are different: lack of time to go to the salon, limited budget or distrust. Master this "art" is not so hard, just know a few secrets that will make your hands young and well-groomed.
OBOZREVATEL reminds the most common mistakes in manicure, because of which you can not achieve the desired result. Take note! (To see the photo, scroll to the end of the page).
1. Skipping the basecoat
A base coat is an extremely important step during a manicure. This prepares the surface of the nail for nail polish application and ensures that it will not swell over time. Our nail contains oils that prevent the nail polish from sticking well, so the base will save the lady from embarrassment.
2. Incorrect nail filing
Incorrect filing can cause splitting and brittle nails. Remember that you should only move the file in one direction, keeping it parallel to the surface to be treated. The free edge of the nail should be filed in a forward motion, otherwise the keratin layer is more likely to be damaged.
3. Trim the cuticle very flat
Before this procedure, first pull back the cuticle with an orange stick. Then cut the cuticle, starting at the side of the nail and moving smoothly in an arc. Use a pair of scissors or wire cutters that are sharp enough to keep the skin free of burrs. If you cut the cuticle too low, you will develop wounds. Don't neglect to moisturize this area, as it can dry out and tear the cuticle.
4. Apply too many layers of nail polish
Thin layers of nail polish are the key to a lasting manicure. If you make them too thick, they will smudge, roll off and peel off. Two coats of nail polish is ideal for keeping your hands looking well-groomed.
5. Not covering the edge of the nail with foundation
Women of the fair sex often encounter chipped nails. To prevent this from happening, remember to cover the end of the nail with a gel base to "seal" the tip. However, take care that the nail is not unnaturally thick.
As OBOZREVATEL recently wrote, to get the perfect "rich girl" manicure, you need to know a few secrets. Hollywood nail-master Tom Bacik claims that the best shape for this coating is square. This way your hands will look as well-groomed as possible.
Only verified information on our Telegram-channel Obozrevatel and Viber. Do not be fooled by fakes!