Trending:
Kyiv-born singer Lyubov Uspenskaya praised Russia for annexing Crimea: she was called a "rotter"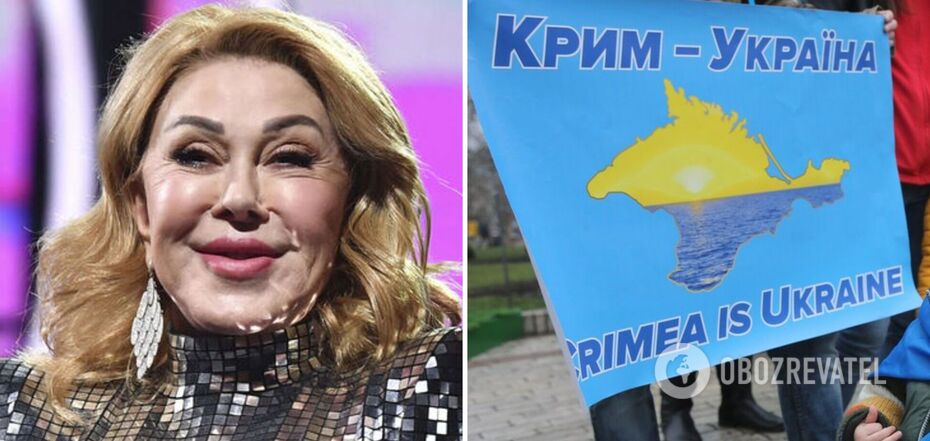 Lyubov Uspenskaya cynically praised Russia for the annexation of Crimea
Pro-Putin singer Lubov Uspenskaya, who hails from Kyiv, showed up in Crimea annexed by Russia, where she hastened to praise her adored terrorist country. The artist began to praise the "changes for the better" on the peninsula after the Russian Federation occupied it.
So, she came to the annexed Ukrainian Crimea to entertain the public with her chanson. She also brought her daughter with her. At a propaganda press conference during the Tavrida.ART festival, Uspenskaya began praising the "present-day" Crimea.
The ex-Kyivan woman also cynically insulted Ukraine, passing off that it was bad in Crimea before 2014.
"Crimea has changed a lot. The roads have become better. I was just remembering how we used to agonize, getting there. And I didn't even want to work anymore. I just said: "God, I don't take money for concerts, I take money for these hard drives." And now there are highways, stunning villas, stunning panoramas. I even asked the driver: "Do you like Crimea then or now?" He said, of course, the present one. But you didn't have to ask, it's obvious," the singer blurted out in praise of the Kremlin.
After that, the Ukrainian native, who is now a US citizen but still considers Russia her homeland, added: "It's a happiness that we got our Crimea back. And we will not give it back to anyone else."
The video with Uspenskaya's "patriotic" odes was circulated in Ukrainian publishers, where Ukrainians quickly put the "compatriot" in her place with sarcastic comments.
Internet users wrote: "That you bastard just villa Ukrainians did not give for vacation, because they knew that you rot will become in the future. Crimea is Ukraine, because it was historically formed and Ukraine with its brains there made the first infrastructure, which you could not even imagine! So, Lyuba Usipenskaya, go to the woods, for Kabzon is waiting", "Worse than other people's fleas, only your own nits", "Take away American citizenship! Let them live in Russia", "Because of those puffy eyes you can really see the 'beautiful' Crimea", "Botox has hit the brain!", "Amazing drones and an amazing bridge! Terrific trenches along the beaches!"
We will remind, Uspenskaya was born and began her creative path in Kyiv. She performed in local bars as a very young girl. She studied at the Kyiv Glier Music School. However, the Ukrainian chansonnier never called herself a Ukrainian artist, but a "patriot of Russia" - yes. Uspenskaya spent many years in exile in the United States, but still considers Russia her native country. After the full-scale invasion, the chanson star went silent, and then realized that she might not be understood in her "beloved" Russia, so she started praising Putin's bloody regime and the war in her native Ukraine, turning into another mouthpiece of Kremlin propaganda.
As wrote OBOZREVATEL, earlier propaganda concert of pro-Putin singers Oleg Gazmanov and SHAMAN almost turned into a "tragedy" because of a burnt overcoat, disperse Russian media. According to pseudo-journalists, a "miracle" saved the Russians who showed up in temporarily occupied Crimea with their odes to terrorists.
Only verified information from us in Telegram-channel Obozrevatel and Viber. Do not fall for fakes!