Trending:
Jackie Chan, Michael Douglas and others: 5 celebrities who admitted they were not in the lives of children. Photo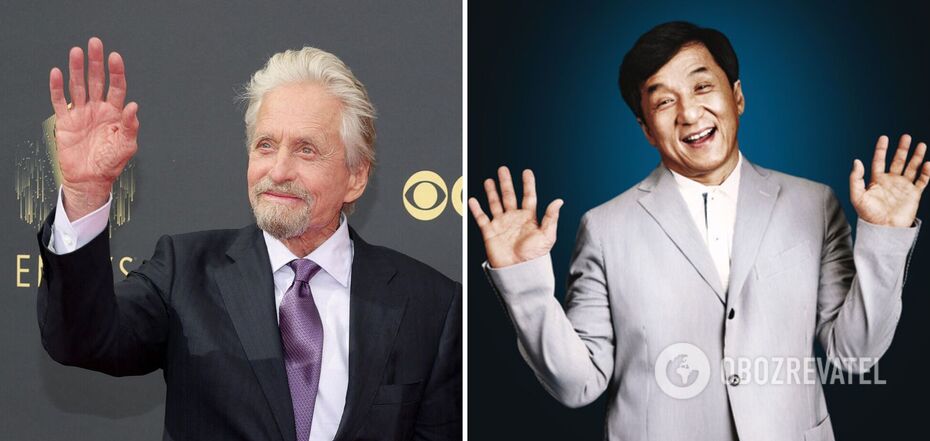 Jackie Chan and Michael Douglas had a difficult relationship with their children
Parents and children are an eternal problem in society. In the frenetic show business, stars usually don't have time to start a family. Some only care about their careers, forgetting about their firstborns.
Conflicts in celebrity families are usually hidden, but there are celebrities who have sincerely shared stories of crisis periods in their relationships with relatives. We are talking about celebrities who did not raise their own children. Read more in the OBOZREVATEL article.
Jackie Chan and Etta Wu Zholin
Jackie Chan, a famous actor, has two children - a 40-year-old son and a 23-year-old daughter. It should be noted that he is actively involved in the life of his son, but not his daughter. Etta Wu Zholin was born when Jackie Chan was having an affair with actress Elaine Ng Yi-Lei. However, the Hollywood macho man did not pay enough attention and time to raising the girl. In an interview with E!News, Etta said that she does not see Jackie Chan as her father.
"He may be my biological father, but he has never been present in my life. I have no personal connection with him and he is not my father. My mum was the main figure in my life and she is enough for me," said Etta.
Michael and Cameron Douglas
Hollywood actor Michael Douglas admitted to Today in 2010 that he was too focused on his career when his son Cameron was growing up. Douglas spent part of his life filming films, so he was absent from his family.
Now Michael is trying to make up for lost time: "My priorities have completely changed. My marriage and family definitely come first before my career." He understands that professional success used to come first, but now his priorities have changed.
Anthony Hopkins and Abigail
Anthony Hopkins has an only daughter named Abigail. However, he did not take an active part in her life, and they have a difficult relationship. In her childhood, the girl saw her father only once a year, which led to conflicts in her teenage years.
Distancing himself from Abigail, Anthony Hopkins expressed his unwillingness to restore their relationship even after 20 years. In an interview with The Telegraph, he said that he had done everything he could, but if his daughter did not want to be a part of his life, he would not impose his presence.
Caitlyn Jenner and children from her first marriage
American TV star Caitlyn Jenner has six biological children, three stepdaughters and one stepson. In the show "Keeping Up with the Kardashians", she seemed to be the perfect mum, although in reality she had a difficult relationship with her older children. During the 1980s, she was practically absent from the lives of Bert, Casey, Brandon and Brody, who were born to former partners Christie Crownover and Linda Thompson.
Caitlyn admits that this period was particularly difficult as she was coming to terms with her gender identity and transitioning. Caitlyn has apologised to her older children for her absence and imperfect upbringing. Although the relationship between Jenner and the older children has become more complicated, the family is looking to the future together, trying to come to terms with the past.
"The fact that we lost, you know, a certain period of our lives is probably the hardest thing we have to face. We try not to look back. We just look forward," son Brandon commented in an interview with US magazine.
Actress Drew Barrymore speaks candidly about her difficult relationship with her father, the legendary theatre actor John Barrymore. She recalls that although she loved her father, she always wanted more of his presence in her life. Drew couldn't count on her father and had to make difficult decisions on her own.
"My father was addicted to drugs, he didn't pay attention to his appearance. He wasn't always able to take responsibility for his actions," the actress said in an interview with The Shop.
Earlier, OBOZREVATEL wrote about stars who abandoned their parents. The celebrities broke off relations with their families for many years, and some of them still haven't reconciled. Read more in our article.
Only verified information is available in our Obozrevatel Telegram channel and Viber. Do not fall for fakes!