Trending:
How to remove rust from metal and tiles: popular methods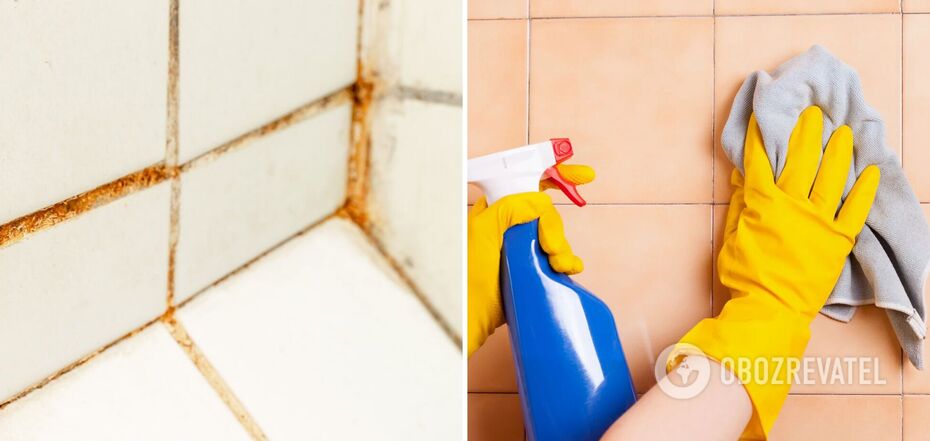 Effective tile cleaners can be found in every kitchen
Due to the high humidity in the bathroom, objects in this room corrode and rust more quickly. This can happen not only with metal parts, but also with tiles, which can collect rust, for example, from water. How to remove rust in the bathroom? In fact, it can be done with improvised means.
OBOZREVATEL tells you how to clean tiles and metal in the bathroom from traces of rust.
Tiles
First of all, you need to focus on the material from which the tile is made. If it is a textured material, such as concrete, cement or some types of porcelain stoneware, then an acidic agent will do. For example, you can squeeze lemon juice and pour it on the stain, or make a lotion out of a paper napkin soaked in juice. Leave the product on for a few minutes, then wipe the treated area with a soft brush to remove dissolved dirt from the pores and recesses, and rinse with water. You can clean tiles in the same way with vinegar.
Ceramic tiles with a glossy finish require a more delicate approach so as not to damage their surface. A mixture of baking soda and vinegar is suitable for this purpose. Pour a little baking soda on the stain and spray 6% vinegar on it with a spray bottle. Allow the product to work and use the stiff side of the sponge to scrub off any remaining dirt. You can also use citric acid dissolved in water and salt. Apply the solution to the rust stain and leave it to act for 10-15 minutes, after which the rust can be removed with ordinary table salt. It is better to take fine salt and rub it over the surface in a circular motion.
Metal
Metal surfaces in the bathroom can be easily cleaned with ordinary aluminium foil. Tear off a piece of the material, crumple it into a ball that is comfortable to hold in your hand, and rub it over the area with traces of rust. They should come off easily.
You can also use baking soda as a mild abrasive by mixing it with water to a paste. This paste should be left to act on the stain for 30 minutes, and then rub the contaminated area with the hard side of the sponge.
Earlier, OBOZREVATEL told how to effectively remove mould from bathroom sealant.
Subscribe to OBOZREVATEL's Telegram and Viber channels to keep up with the latest news.