Trending:
How to quickly clean tile seams: top cleaning products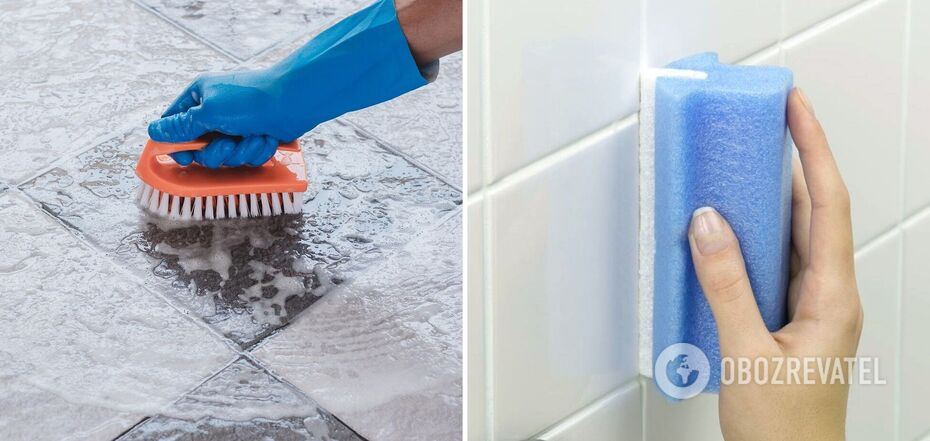 Cleaning joints between tiles requires a delicate approach
Tile joints in the bathroom or kitchen are both hard-to-reach and delicate places, and they are always a lot of work to clean. Due to their porous texture, they quickly collect dirt and spoil the appearance. But you need to rub them carefully so as not to damage the grout. That's why the secrets of how to clean tile grout are so valued among lovers of perfect order.
OBOZREVATEL has collected several options for home remedies that will help to cope with this problem. The main rule is to take the softest possible brushes for cleaning so as not to damage the material used to make the tile joints. For example, an old toothbrush with soft or medium bristles will do.
Soda and vinegar
The active foam produced by these two substances during interaction penetrates even porous material. At the same time, the effect of this product is not too aggressive. Mix a sufficient amount of baking soda with water in a 1:1 ratio, apply the resulting paste to the seams, and then spray vinegar on top. Leave to act until the product foams, then rub the seams with a brush and rinse off the residue with water.
Baking soda and citric acid
If you don't like the smell of vinegar, you can mix baking soda with powdered citric acid in equal proportions, add water and rub the seams with this product. It is better not to mix the entire product with water at once, so that it does not "fizzle" before you finish applying it. Dilute the mixture in parts and apply it to the seams while it is interacting. Afterwards, brush over them and rinse with water.
Soda
Soda itself also works well when you need to take care of the tile joints. You can sprinkle it dry on the floor and then moisten it with water; on the walls, it is better to apply a soda paste made from a mixture of dry powder and water in equal proportions. Then brush the joints thoroughly and rinse off the remaining soda.
Chlorine bleach
If you are sure that your seams are made of a durable material and are not painted in any colour, use a chlorine-based bleach. It will kill all fungi and bacteria. Pour the product into a spray bottle and spray it on the seams. After 10-15 minutes, when it has worked, rinse all the treated areas thoroughly.
Home remedy for yellowing
Instead of an aggressive liquid with chlorine, you can prepare a seam bleach based on baking soda, vinegar and citric acid. To do this, take:
water - 1.5 litres;
baking soda - 150 g
dry citric acid - 25 g
vinegar - 100 millilitres.
Put all the ingredients in a spray bottle and mix well. Spray the finished liquid on the seams. It will take about 10-15 minutes to work, after which the product should be washed off. The procedure can be repeated if necessary.
Earlier, OBOZREVATEL told which cleaning products should never be mixed - it can be deadly.
Subscribe to OBOZREVATEL's Telegram and Viber channels to keep up with the latest news.