Trending:
How to peel kid's slime off different surfaces: tips and tricks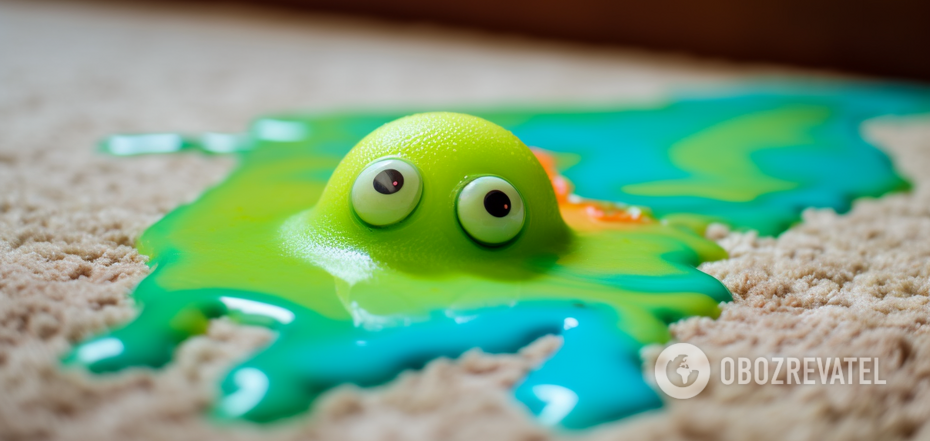 The hardest thing to clean a slime from textiles
Slime is a simple toy that can bring a child a lot of fun as he throws it at different surfaces. And a real headache for parents, who then have to clean it all up. Particularly because the different materials in which the slime gets stuck will need different cleaning products. The hardest thing to remove it from fabrics - clothes, curtains, furniture upholstery, etc.
OBOZREVATEL gathered a few basic tips on this subject. The good news is that toy marks can be completely removed at home. Here are the most effective methods.
Cold
Soiled textiles (clothes, curtains, tablecloths) can be put in the freezer overnight. Under the influence of low temperatures, the slate becomes hard and brittle, and in the morning you can simply scrape it off the fabric.
If you can not put the thing in the freezer, you can use ice. You should put a few cubes on the stain and wait for some time. The remains of the toy will quickly freeze, and they, too, can be removed mechanically. The main thing is to move from the edges of the stain to its center.
Boiling water
Boiling water can also dissolve the substance of which the slime is made. But this approach is suitable only for some items made of natural fabrics. The soiled part should be soaked in boiling water for about 15 minutes, and then wash the thing in the usual way.
Laundry soap
This is a fairly versatile product that is suitable for almost any fabric or surface. The place where the slime has stuck can be rubbed with a bar or soaked with liquid laundry soap and leave it to work for 10-15 minutes. Next, the place should be well washed with water, and if possible, washed in the machine.
Salt with lemon juice and ammonia
This remedy combines the properties of an abrasive and a solvent. To prepare it, take a tablespoon of table salt and the same amount of ammonia alcohol, mix them and add a drop or two of lemon juice. This mixture should be applied to the stain for about 30-40 minutes, then clean the soiled area with a soft brush - an old toothbrush will do well. You should treat the dirty place until the stain disappears, periodically wetting the brush with the product. This will take some time.
Alcohol
Medical alcohol is good for dissolving slime. Simply soak a cotton pad in it and blot the stain several times. Then you can wash the stain.
Previously OBOZREVATEL told you how to clean carpets from stains.
Subscribe to OBOZREVATEL channels in Telegram and Viber to keep up with the latest news.