Trending:
How to get rid of dust at home for a long time: how to rub tables and shelves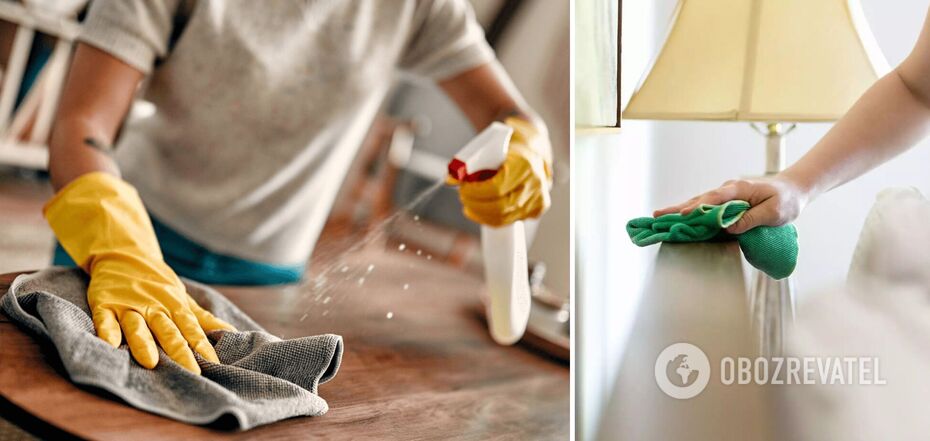 The product can be applied with a cloth or used as a spray
Dust build-up is most noticeable on flat, horizontal surfaces such as tables or shelves. The dirt is deposited in an even layer, making the surface less shiny and leaving distinctive marks at the slightest touch. Therefore, cleaning products with dust-repellent properties are a real dream for many people. And there is a way to get rid of dust for a long time.
As OBOZREVATEL found out, such a mixture can be prepared at home. It should be based on an ordinary fabric softener. It should be diluted with water in a ratio of 1:4, where water makes up 4 parts of the volume. In this case, the product will not leave streaks, as with a higher concentration of fabric softener.
When cleaning, apply this solution with a cloth to the surfaces that collect dust the most. You can also spray the surface with it and then wipe it with a cloth. The composition of the solution will effectively collect dirt, it will also create an invisible layer of product that will repel new dust, and it smells very good. However, it should not be used for the care of appliances. Computers, TVs, audio equipment, etc. require special cleaning products.
Earlier, OBOZREVATEL told how to easily get rid of dust in hard-to-reach places.
Subscribe to OBOZREVATEL's Telegram and Viber channels to keep up with the latest news.