Trending:
How to clean the burners of a gas stove: home remedies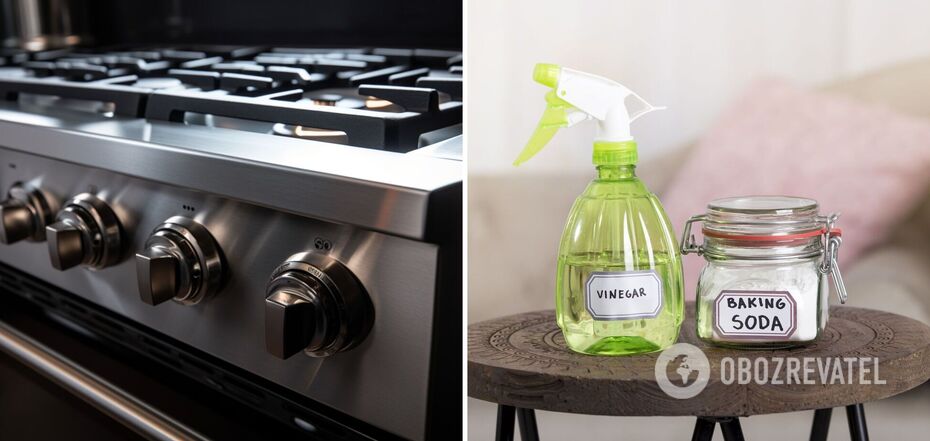 It is very important not to forget to dry the burners properly after cleaning
Gas hobs are the most difficult type of appliance to clean. Any splashes or burnt food instantly settle on the surface, which is not easy to reach. The burners are especially affected, as dirt sticks to them right during operation due to their temperature. That's why it's important to know how to clean the burners.
OBOZREVATEL tells you how to do it with home remedies. They will clean burnt fat without aggressive chemicals and are quite inexpensive.
How to clean the hobs correctly
First of all, it's important to wait until they cool down - this is the main safety rule. After that, all removable parts should be removed. Do not clean them directly on the hob. Otherwise, water can get inside the appliance and disrupt its operation.
Home remedies for cleaning hotplates
Vinegar
To remove burnt-on dirt from the burners, soak them in a hot solution of vinegar and water. Vinegar should be 3 parts and water 1 part. Immerse the removable parts in this liquid and wait for it to cool. Any dirt that remains after this soaking can be easily removed with a brush or metal scraper. After that, the parts should be dried or wiped dry and only then reinstalled.
Baking soda
To clean the hob parts with baking soda, you need to make a paste of the product. Mix a few tablespoons of the powder with a little water to the desired thickness. Rub all the items with this paste and leave them for 15 minutes. After that, the product should be wiped off with a sponge and brush. The final step is drying.
You can also soak the burners in baking soda. Dissolve two tablespoons of baking soda in a litre of hot water and immerse the contaminated parts in this liquid. When the water has cooled, remove them, brush them, rinse them under running water and dry them.
Baking soda and vinegar
Baking soda and vinegar work best in tandem to tackle even the most stubborn dirt. Sprinkle baking soda on a wet hob and sprinkle vinegar on top. After that, an active foam begins to form on the surface. It is necessary to give it time to "fizzle" and wipe the hob with a brush after 15 minutes. After that, the items are washed and dried.
Ammonia
This product is best for cleaning cast-iron hobs that are not very resistant to abrasives and chemicals. To clean, place the removable parts in a bowl, fill it with water and add 3 tablespoons of ammonia. After that, the vessel is tightly covered with a lid and taken to a well-ventilated room overnight, or even better, put outside to avoid exposure to ammonia vapours. In the morning, the burners are washed under running water, wiped with a sponge and dried properly.
Earlier, OBOZREVATEL told whether it is possible to clean the bathroom with toilet bowl products.
Subscribe to OBOZREVATEL's Telegram and Viber channels to keep up with the latest news.