Trending:
How to clean a high-pile carpet: tips for housewives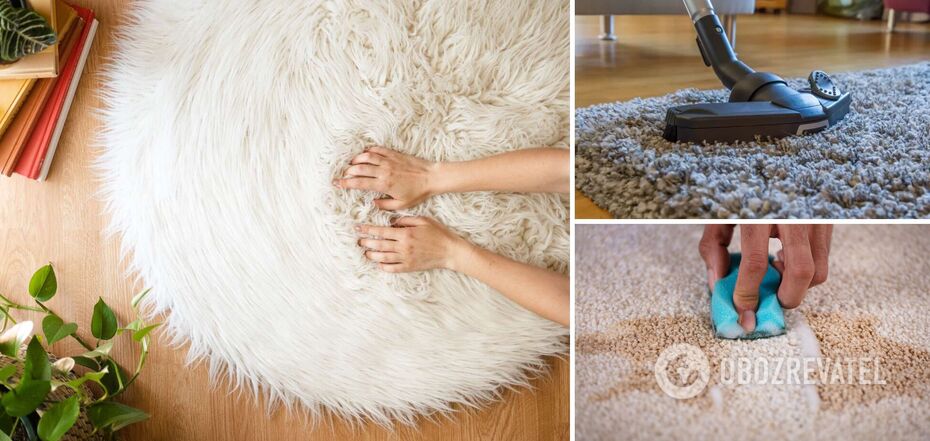 A shag carpet is worth the effort of caring for it
A fluffy, high-pile carpet looks extremely impressive. It is also pleasant to the touch and much warmer than a thinner version. These are all advantages. Except for one thing - cleaning. At first glance, it may seem that it will not be possible to remove dirt with a vacuum cleaner. However, there are several life hacks on how to clean a high-pile carpet.
OBOZREVATEL has collected tips from experienced housewives on how to cope with such an item. Of course, it won't be as easy as with a regular carpet, but this interior decoration is well worth the effort.
Old-fashioned method
Dust from a shag carpet can be knocked out in a trivial way. And a small rug can be shaken out. Just make sure that the tool you decide to use does not pull on the pile. This can damage the carpet. Also, do not do this cleaning in direct sunlight. Prolonged exposure to the sun can discolour the item.
Intricacies of vacuuming
Despite the fact that this method of care seems not only difficult but impossible, it is quite possible to clean a long-pile carpet with a vacuum cleaner. First of all, turn the carpet wrong side up and vacuum it in this position. This will remove fine dust that can be pulled through the fabric. In addition, this position will loosen some of the dirt from the carpet, which can then be picked up directly from the floor. If you plan to clean the pile directly, reduce the suction power and remove the beater to avoid damaging or tearing out the pile.
You can also treat the item with carpet cleaning shampoo. However, it is better to apply it manually so as not to overwet the pile with foam. When the product has pushed the dirt out, you can shake it out or beat it out and vacuum it as described above.
Steam cleaner can help
A steam cleaner can be very effective when it comes to cleaning a shag carpet. Vacuum or beat the item, add clean water or a suitable product to the steam cleaner and thoroughly treat the entire surface. All you have to do is wait for the carpet to dry naturally before putting it back on the floor.
What to do with stains?
A long pile absorbs more dirt than a short pile, so it will be more difficult to clean it from stains. Especially if you allow the dirt to penetrate deeply. Therefore, it is important to react as quickly as possible. So always keep a carpet cleaning solution at home that you can use without delay. It is advisable to test it in advance to ensure that it is safe for the fabric by applying a little in an inconspicuous place. Immediately apply the solution to the stain. You will need to spray or sponge a lot of the product so that it works along the entire length of the pile. Then let it act as directed and even a little longer, and then blot with a damp cloth and absorb the remaining moisture by applying a paper towel to the treated area. A large stain should be removed from the outer edges to the centre. In any case, do not rub the contaminated pile, it is better to repeat the procedure several times.
Dry cleaning will save you
If you are afraid of spoiling a beautiful thing, then entrust its care to professionals. From time to time, take the carpet to a dry cleaner or call a cleaning specialist to your home. They will determine the type of pile and weave of the carpet and clean it with the most suitable products.
Earlier, OBOZREVATEL told how to clean a carpet from stains at home.
Subscribe to OBOZREVATEL's Telegram and Viber channels to keep up with the latest news.