Trending:
How to achieve the glowing skin effect with makeup: three tricks that stars use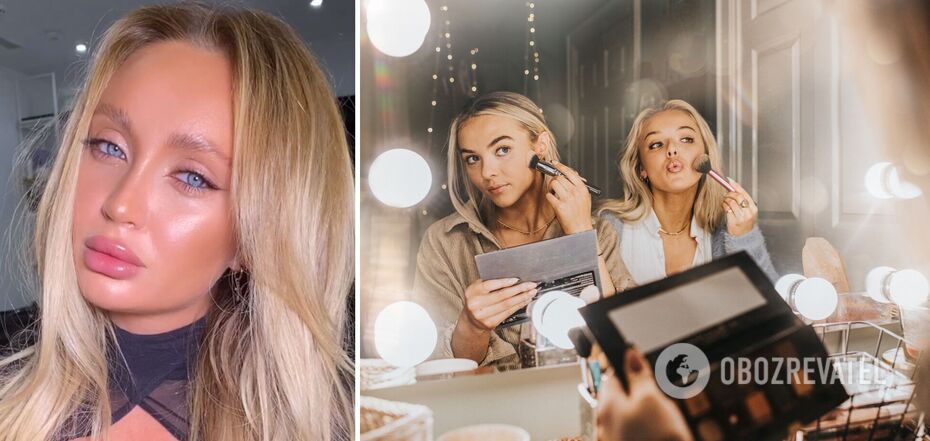 How to achieve the effect of glowing skin with makeup
The main trend in the world of makeup in the last few years is the so-called "no makeup" makeup. The essence of the technique is to create the most natural and fresh look, as if you did not use makeup at all. A glowing skin, a light blush, an open look and soft lips are the effect that we want to achieve.
This makeup is especially relevant for summer, when you don't want to burden yourself with layers of foundation, dark shadows, accent lipstick and crazy contouring in the style of Kim Kardashian on the red carpet. In a hot period, it will not only harm the skin but also look inappropriate and vulgar. Therefore, OBOZREVATEL offers to get acquainted with three tricks of trendy makeup, the main hack of which is to create a radiant face.
1. Makeup is not as important as what lies beneath it
By now, every beauty should have learned the main fundamental rule. First of all, you should take care not about the makeup itself, but the preparation of your skin for the application of makeup.
The secret to a perfect makeup application begins with beautiful, healthy skin, so use skin care products designed to moisturize and protect to achieve glowing results. Don't forget that in the summer, it's imperative to apply SPF to protect yourself from the sun's harmful rays. Look for serums and moisturizers that contain brightening ingredients like vitamin C and niacinamide and use exfoliating chemicals like alpha hydroxy acids at least once a week to help clear away dull, dry skin and create an instant glow.
All this will help make makeup look smooth and "invisible," that is, as natural as possible. And these are the goals we have in mind when we talk about the perfect makeup.
The perfect foundation
So, when the skin is completely ready for cosmetics, it is important to choose the perfect foundation, which will make the face radiant, glowing and flawless. Choose a foundation with a lightweight formula that's easy on the skin and just as invisible. Push heavy, dense textures to the side. The product should have a matting effect, but it should not make the face look dull, gray and painful.
Apply the product directly to a brush or sponge and spread it in a circular motion from the center of your face to achieve light, sophisticated finish.
3. Highlighter or "sun-kissed" effect
To get the perfect glow, especially at the end of a summer day when the sun is shining in its rich golden rays, our trustworthy friend, highlighter, can do magic. For a dramatic, dazzling and shimmering complexion, apply this brightening shimmer powder to the top of your cheekbones, the bridge of your nose and Cupid's bow (the area above your upper lip) over foundation or on bare skin. You can also add glitter to the tip of your nose and the area under your eyebrows.
Earlier OBOZREVATEL wrote that there are several mistakes in eye makeup that can age you. You should be careful with graphite and black shades of shadows, false eyelashes and arrows. For details, follow this link.
Only verified information on our Telegram-channel Obozrevatel and Viber. Do not be fooled by fakes!