Trending:
Future "client" of the SBU: "vice-mayor of Kyiv" says Russia cannot be defeated and attacks Zelenskyy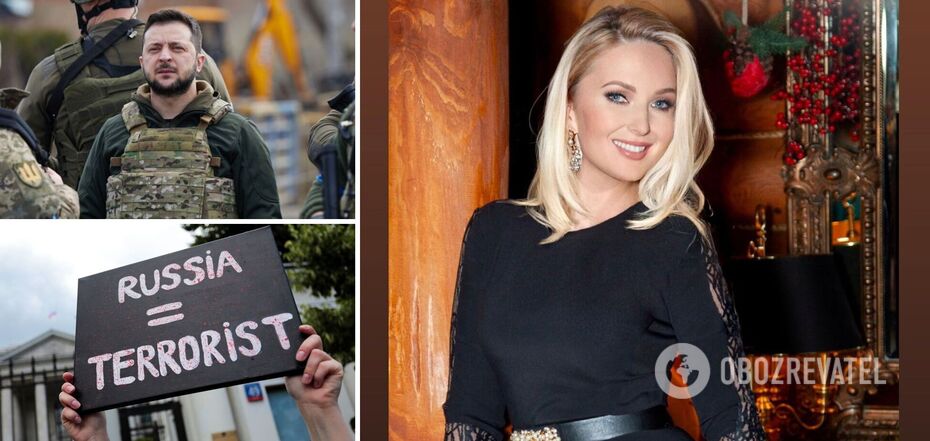 Natalia Bakai says Russia cannot be defeated and attacks Zelenskyy
Natalia Bakai (Kozytska), a Ukrainian blogger who represented Ukraine at Miss World in 1996 and was also Vice Miss Kyiv, posted a batch of propaganda nonsense on her social media about her native country, the war and President Volodymyr Zelenskyy. However, the position of the Putinist, who, by the way, is the wife of Ukrainian billionaire and former head of Naftogaz of Ukraine Ihor Bakai, is not surprising. The woman and her family have been living in Rublevka near Moscow for many years and seem to easily ignore the genocide of their own people for bloody rubles.
On her personal Instagram page, the victim of Russian propaganda posted an insulting post about Zelensky. In the comments, the Ukrainian woman was shamed for her position, but in response, she attacked her compatriots who allegedly "do not understand what is happening".
Thus, Bakai posted a video with footage from a film in which Zelenskyy was filmed before his presidency. The video was accompanied by the text: "Run, b*tch, run!"
Ukrainians responded to this: "Aren't you ashamed? You are a Ukrainian!", "Because of this ruthless war, millions of Ukrainians were forced to go abroad to save their lives. How many innocent people died in the war, and these were someone's husbands, sons, fathers... And you are a native Kyivan, don't you have a conscience to keep silent or post something like this on your page?", "Wet dreams of traitors of Ukraine. How much were you paid for this post?", "I wonder where you will run to?"
However, Bakai does not care about the opinions of her compatriots. Following all the canons of the propaganda manual, she posted absurd narratives about "drug addicts and Banderites", "brotherly peoples" and "the faith of the Slavs" in her comments.
"Zelenskyy is a drug addict Judas. And we, gloriously, are for faith, for Orthodoxy and for justice... Precisely because I am a Ukrainian, a Kyivan, an Orthodox, a Slav... that is why I am ashamed of you and hurt for Ukraine. Your Zelensky has destroyed the whole country, destroyed the gene pool, betrayed the faith, betrayed the Holy Lavra, introduced Nazis and Banderites into the rank of law... a complete drug addict and Judas. And you don't see it, and your children are dying for America and its interests. Wake up!" - Bakai shouted.
The apogee of her propaganda speech was the phrase: "Russia cannot be defeated". The Putinist assured that her father, relatives and friends remain in Kyiv, but the "Muscovite" herself continues to speak her "truth": "Are you so stupid that you don't understand that Russia could have skated on the first day, and everything would have been over. Russia is fighting for itself and defending its rights and freedoms, while America has dragged you into a war and is not going to end it. They have been preparing for this for 30 years, since the collapse of the Soviet Union. Do you really believe that Ukraine will win? Only a fool can believe that."
Earlier, OBOZREVATEL wrote about another fan of Russia from Ukraine who has won beauty contests - Miss Lviv 2018 and First Vice Miss Ukraine Universe Natalia Bolyukh. She lives in Moscow and moves around in a pro-Putin environment. In 2022, she was stripped of her titles.
Only verified information is available in our Obozrevatel Telegram channel and Viber. Do not fall for fakes!