Trending:
"Everyone was crying yesterday!" Mother and fellow villagers of Nastia Dymyd, who will represent Ukraine at Junior Eurovision, tell about her victory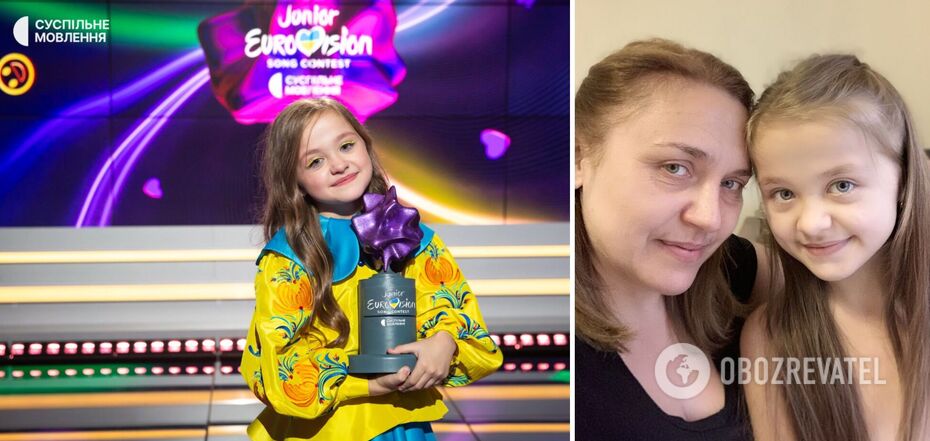 Nastia is the third daughter in the family
Nine-year-old singer Anastasia Dymyd will represent Ukraine at the Junior Eurovision Song Contest 2023 with her track "Flower". The native of the small Carpathian village of Hoshiv won the National Selection.
She is the youngest among this year's participants. Nastia's mother, Ulyana Dymyd, and the headmistress of Anastasia's school, Marta Fryshchyn, told OBOZREVATEL how her family and fellow villagers rejoiced at the girl's victory.
Nastia's mother is an accountant by profession, and in recent years she hasn't worked in her field because she has completely switched to helping her daughter with her art. Her father works in the district center at an enterprise. Ulyana and Oleh Dymyd have three children. Their eldest daughter Tetiana is 26 years old, a doctor with a family and children of her own. The middle daughter, Victoria, is 24 years old and also married. Like Nastia, she is a good singer. She graduated from a music school in Ivano-Frankivsk and studied at the Lviv Conservatory.
"This is a talented family. Mom Ulyana is a generator of ideas. Dad Oleh is a 'stone wall'. He supports the ideas generated by my mother in any form. He supports everything they come up with with both hands. He is a very optimistic man. He has two grandmothers, one lives in Spain and the other here in Hoshiv. They are also very supportive of the girl," says school principal Marta Fryshchyn.
Nastia is a fourth-grader at the Hoshiv Lyceum. "She often takes part in various competitions on the road," continues Marta Yulianivna. "When she goes away, she has to miss classes. But as soon as she returns, she makes up for it. Just to give you an idea, this includes math, English, reading, music, drawing, and labor training. She finishes, completes, and paints everything. She can come home from a competition, and we are planning a celebration - she easily joins in. Wherever she is, when she returns home, she becomes a sincere child, like all her classmates. She doesn't have starstruck - I was worried about that. She is very hardworking and hardy by nature."
Recently, the school principal, along with Nastia's parents and classmates, traveled to the district center to shoot a video in support of Nastia. "You can't imagine how much we were cheering for her yesterday! And when it became known that the victory was ours, there was such a standing ovation in the Viber group. This morning we have already mentioned Nastia, and we are waiting for her arrival. We are very happy because she is glorifying our glorious Hoshiv," adds Marta Fryshchyn.
Nastia's mother is now in Kyiv with the girl. She says that her first impressions when she realized yesterday that Nastia had won the National Selection were very emotional: "For a few seconds I couldn't believe what I heard. Then I started to cry. Of course, they were tears of joy. And now I'm talking to you, and tears come to my eyes. Then I started to come to my senses. Nastia is the youngest participant in this competition, and she is a great girl. What can I say: everyone was crying yesterday. My dad, older sisters, grandparents, all my relatives."
Nastia's sisters now live in Spain. The eldest, Tetiana, has two sons. "Matvii is four years old, Levko is one year old. Nastia is their aunt," Ulyana continues, "but she doesn't treat them like nephews. They are like brothers and sisters. When we talk on the phone, Nastia sends kisses. The older one already speaks well with Nastia. He really wants to go home to Ukraine."
Recalling the Black Sea Games, where Anastasia became a semifinalist this year, her mother says: "The emotions then were incredible too! Nastia was also the youngest participant in her category and won first place. As we were later told, she was one point short of the Grand Prix. But we were not upset at all, because next year we can come back and participate in the competition."
The final of the Junior Eurovision Song Contest will take place on November 26 in France. This will be the girl's second trip abroad. In May, she took part in one of the creative competitions in Spain. "She really wants to go to France. She asks all the time: "Mom, are we going to see the Eiffel Tower?" Ulyana laughs.
When we ask how much it costs the family for Nastia to participate in singing competitions, her mother answers: "Most competitions are free. We pay for travel and costumes. I try to sew them myself. My grandmother used to sew very well - I used to sit by her side and watch. And probably something stuck in my memory, so now I do it myself. I wouldn't say it's very expensive - it's just a desire."
"Our Nastia has been singing since she was a little girl. As soon as she learned to walk, she took a children's microphone in her hands and sang something in her own language. We even have this video somewhere in our home archive. Once she sang a carol so beautifully that I decided to learn new songs with her and record them. That's how we started participating in competitions. At the age of six, we sent her to music school," adds Ulyana Dymyd.
Nastia studies at the music school in the district center, plays the piano and learns the art of singing. Her parents take her by car from the village to the district center. "Sometimes it's hard, because the workload is considerable, but she's doing well, she manages to do everything," says her mother.
Earlier, OBOZREVATEL told you who Anastasia Dymyd is, who will represent Ukraine at the Junior Eurovision Song Contest 2023, and why she makes a sign of the cross on herself before performances.
Also, OBOZREVATEL wrote about the details of the final of the national selection for this year's Junior Eurovision.
Only verified information is available on the Obozrevatel Telegram channel and Viber. Don't fall for fakes!