Trending:
Casted a shadow on the crown and disappointed his mother: how Charles III was caught cheating and why he was caught in a sex scandal because of his mistress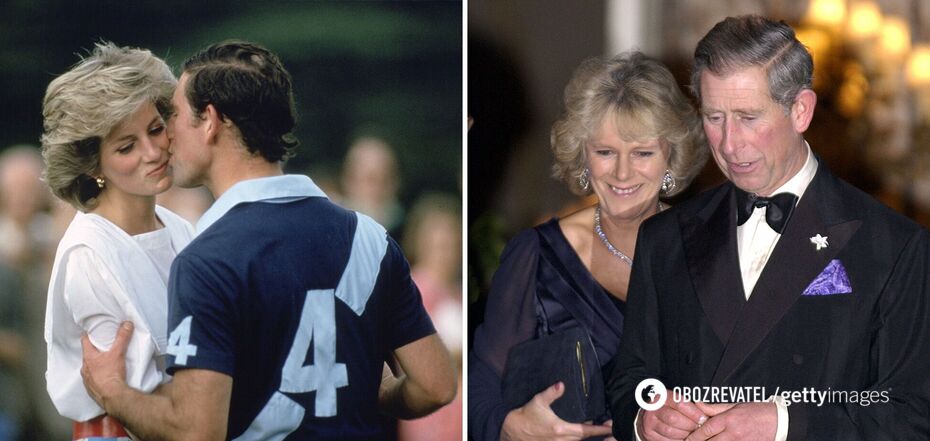 Charles III was the subject of high-profile scandals
In a few days, Charles III would be crowned pompously and officially named ruler, but in his youth, this could not be said with certainty because of the prince's scandalous behavior, for which he was once hated by British subjects. The son of Queen Elizabeth II allowed himself to be rude to the press, break royal rules and make rude political statements, but most of all he was disgraced by the infidelity of the mother of his sons, Princess Diana.
There are still rumors around the Diana-Charles-Camilla love triangle, and the death of popular favorite Lady Di in 1997 actually made the Duke's new wife enemy number one for the United Kingdom. OBOZREVATEL decided to remember how young Charles cast a shadow over the crown and disappointed his mother with scandals surrounding his romantic adventures (to see the photo, scroll to the end of the page).
On television screens and photos, Diana Spencer and Prince Charles looked happy and in love, but friends of the monarchs claimed that in the five years they had been together, the Duke had become gloomy, silent and depressed. From this state, mutual friends asked the prince to get his ex - at the time married Camilla - out of it.
Ex-lovers began to communicate and become friends, and then feelings flared up between them. Even then Lady Di began to notice her husband's interest in her ex, but she did not speak publicly about the problems for a long time. When Charles's infidelity became apparent, Diana turned to his mother, but she could not find advice for her daughter-in-law.
"There were three of us in this marriage, so it was tight," Lady Di once admitted in an interview, which "buried" the prince's reputation and angered his family. However, the queen was more upset by the act of her son, who cast a shadow over the crown.
In "The Rebellious Prince: The Power, Passion and Defiance of Prince Charles," biographer Tom Bauer recalls how mother and son interacted. The queen said she would "never forgive Camilla" and called her an "evil woman," while she told the prince that she was disappointed.
Sex Scandal
It is likely that Charles and Diana's divorce might have gone less scandalously had it not been for the Duke's brazen behavior. Being a married man, he did not secretly meet his mistress, and he did not even try to hide it to his family or his wife.
Three years before the divorce, journalists got their hands on a recording of his phone conversation in which Charles shared sexual fantasies with his mistress about wanting to become her tampon. The 6-minute frank conversation behind the back of Princess Diana, who was adored in Britain, became fatal for the prince. Incidentally, Camilla was also still married at the time.
It took Pora about 30 years to change her mind about her relationship and save her reputation as the monarch's mistress in the eyes of her subjects. She now proudly bears the title of Queen Consort
Previously OBOZREVATEL wrote that in his youth Charles was called the sex symbol of his generation, so it is not surprising that aristocratic beauties and famous stars fought for his attention. A look at the prince in his prime years is available at this link.
Only verified information in our Telegram channel Obozrevatel and in Viber. Do not be fooled by fakes!