Trending:
Babkina called the bombed-out Mariupol "a nuisance" and said that Russia is on the right track. Video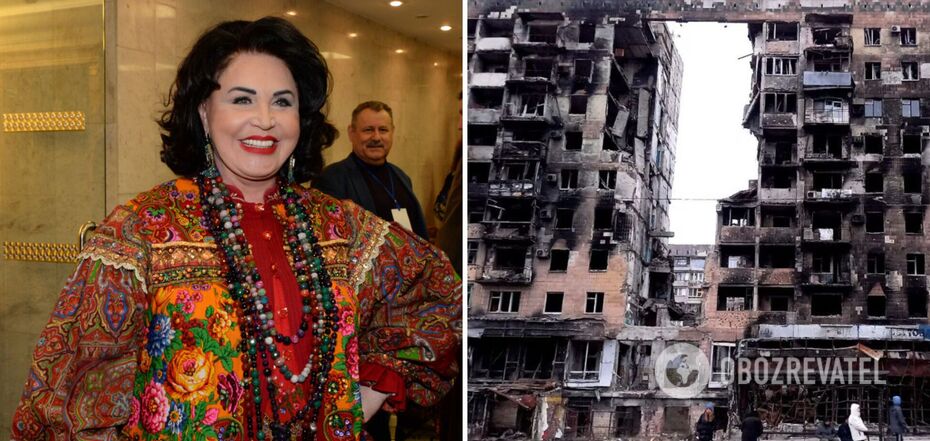 Babkina told about Mariupol
Renowned Russian singer Nadezhda Babkina, who stubbornly supports the terrorist war in Ukraine and Putin's bloody regime, gave out another batch of propaganda nonsense. The singer cynically declared that the destruction of Mariupol is a "nuisance" and it will remain under occupation despite the opinion of the city's residents.
The artist encountered opponents of Putin's regime during a visit to the city in 2022. They told the Putinist that it was Russia to blame for the suffering of the townspeople, but Babkina let the Mariupol residents' words pass her lips. She was not ashamed to say so in an interview (to see the video, scroll to the end of the page).
The dictator's supporter recounted the thoughts of Mariupol civilians who openly opposed the occupation, but she ignored their words. Moreover, she continues to support the occupiers "in various ways."
"I had a meeting in the street before the event. There were different conversations. Both pleasant and not so pleasant. There were all sorts of things. People from the older generation, who know what war is like, blamed us for the unpleasantness that is happening to them now," Babkina said defiantly.
Putinist acknowledged that the city is ruined and compared it to Pavlov's House, which is located on Lenin Square in Volgograd. There, during the Battle of Stalingrad, a group of Soviet fighters held the defense for 58 days.
The singer tried to convince the zombified viewers that the Russian Federation was not to blame for the destruction of the city and the murder of Ukrainians. However, she did not remember how peaceful and blooming Mariupol was until February 24, 2022.
The artist cynically spouted fables about Ukraine being part of Russia. She called the Ukrainians "scoundrels" who "made a nuisance of themselves" by building their own independent and sovereign state.
"It's going to be just right. You know, the rascals did a little damage. They fell for some provocative things. But everything will end successfully. Obviously, we're on the right road, comrades," added Babkina, who is obviously still thinking in the Soviet Union.
As OBOZREVATEL wrote, Babkina described her only visit to Mariupol, where she posed, smiling, in front of the Drama Theater, where Russian pilots dropped a bomb on March 16.
Only verified information in our Telegram channel Obozrevatel and in Viber. Do not be fooled by fakes!