Trending:
Business on blood: three American food giants have dramatically increased sales in Russia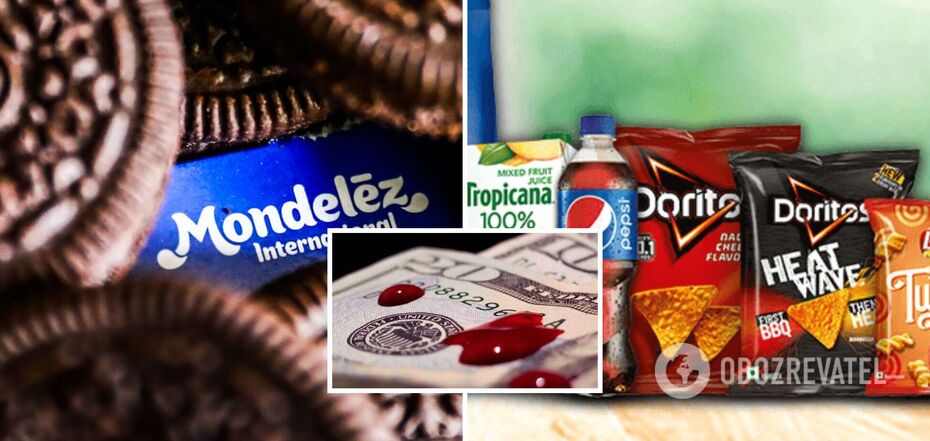 American corporations are not shy about making money in Russia
Western companies are withdrawing from Russia under public pressure, but not everyone is affected. Three American corporations, including Mondelez, Mars and PepsiCo have shown rapid growth of their sales in Russia. All of them managed to cash in on the withdrawal of more conscious competitors.
That's what Bloomberg reported, citing the companies' financial reports and Russian tax data. The more the trade volume and profits of U.S. corporations in Russia grow, the more taxes they pay to the Kremlin. And the Russian authorities use this money to finance the war against Ukraine.
Mondelez in Russia, for example, increased its sales by 38 percent to 92 billion rubles ($1.1 billion). Mondelez's annual report states that its profitability in Russia increased thanks to "pricing, volume growth and suspension of advertising". Already 4% of Mondelez's consolidated revenues were in the Russian Federation in 2022.
Mars recorded sales growth of 14% to 177 billion rubles ($1.9 billion) last year, and profits rose 58% to 27 billion rubles ($295 million). PepsiCo's revenue in Russia grew 16% with profit quadrupled. The carbonated beverage maker said its deals in Russia bring in 5% of consolidated net income in 2022, up from 4% a year earlier.
All of these companies stayed in Russia because they are not subject to sanctions. At the same time, all three stated that they would sell only "basic products" to Russians.
For example, PepsiCo CEO Ramon Laguarta stated that the company was suspending the sale of international brands such as 7Up and Pepsi. However, the American group's division in Russia sells chips, carbonated drinks, milk, dairy products and baby food, as well as local products such as kvass.
Meanwhile, other consumer giants that have claimed to be cutting business in Russia have actually disappeared from the country. For example, Coca-Cola has indeed left Russia. Its products are brought into Russia only through third countries, and copycats under Russian brands have emerged to meet demand.
"The companies that stayed could benefit from the departure of competitors from the market... There are no dramatic changes in consumer spending," Bloomberg analysts said.
The outlook has already worsened
Mondelez's unprecedented sales growth is starting to wane. In June, after being listed as an international war sponsor, the company said it was further curtailing its operations in Russia. Mars is also minimizing its activities in Russia. PepsiCo, however, declined to comment.
Companies that remain in Russia are facing boycotts. For example, Pernod Ricard stopped exporting spirits to Russia after calls for a boycott in Sweden.
Mondelez has already faced a boycott in Europe after being put on the Ukrainian list of international war sponsors. Scandinavian countries joined it most actively. After that, Mondelez declared its desire to wind up business in Russia. However, the boycott did not stop it, because the company isn't planning a complete withdrawal from the Russian market.
British conglomerate Unilever became the target of an initiative group called the Ukrainian Solidarity Project. Unilever's revenue in the Russian Federation dropped 1% to 85 billion rubles, but its profit in 2022 almost doubled.
After being added to the list of war sponsors, the company said that the Russian division is separate from the rest of its business and that profits are not leaving the country. A spokesman for the company said that actions aimed at reducing business in Russia led to a decrease in sales of about 15% last year.
As reported by OBOZREVATEL, earlier Ukraine removed the company from the list of war sponsors for the first time. Under pressure, the business severed all ties with Russia.
Only verified information in our Telegram channel Obozrevatel and in Viber. Don't be fooled by fakes!