Trending:
What does the Ryugyong Hotel in North Korea, worth almost $2 billion, look like and why is it called "Mordor"? Photo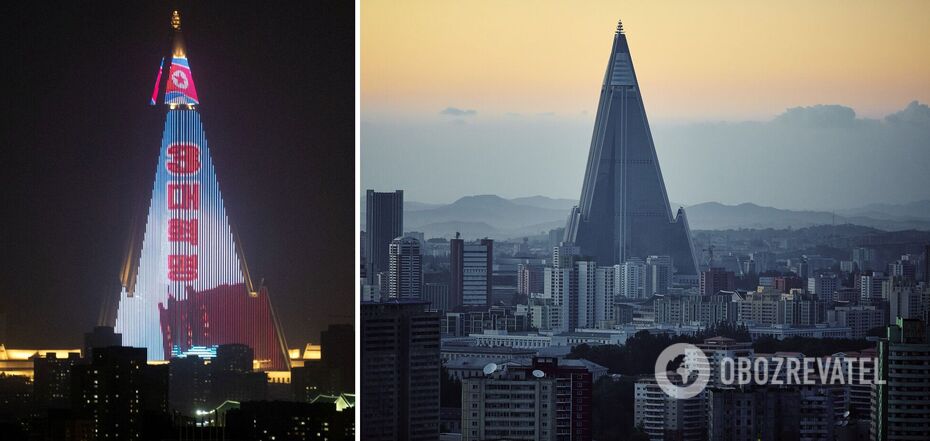 Ryugyong in the DPRK
In the notorious North Korea, whose borders are closed and 60% of its residents live below the poverty line, one of the world's most expensive hotels called Ryugyong has been built. Its construction began back in 1987, but was completed only in 2013. However, even since then, not a single guest has stayed in the nearly $2 billion (71.5 billion hryvnia) building.
The eerie triangular-shaped hotel was even dubbed "Mordor" and "Hotel of Doom" because of its height, appearance, and "desolation." The story of the 105-story, 330-meter-high skyscraper was told in the DailyStar.
The Hotel of Doom is located in Pyongyang, the capital of the DPRK. The name comes from one of the city's nicknames - "Ryugyong" or "capital of willows".
As we have already noted, construction of one of the most expensive hotels in the world in one of the poorest countries with a totalitarian regime began in 1987. The Ryugyong was scheduled to open two years later, and at that time it would have been the tallest hotel in the world. However, it is now known not for this characteristic, but as the world's tallest unoccupied building.
The Ryugyong Hotel was supposed to have 3,000 rooms and 105 floors in three wings.
The construction took longer than planned. The work was suspended in 1992, five years after it began, and resumed only 16 years later, in 2008. Apparently, the pause was due to the economic crisis in the DPRK that shook the country after the collapse of the USSR.
Eventually, an Egyptian contractor took over the hotel, and in 2011 the building was supplemented with glass panels. At the time, the North Korean leadership claimed that the hotel would definitely open in 2012, but again it was not to be. It was finally completed in 2013.
A German hotel group was supposed to manage the Ryugyong, but after a few months, it pulled out of the deal, saying it "could not be part of the North Korean market." Now, in 2023, the hotel is still empty. No one knows if any guest will ever stay within its expensive walls.
As OBOZ.UA wrote earlier, the village of Nagoro in Japan is located in a mountain valley at an altitude of 800 meters above sea level. Due to this location, many locals left long ago, but their places are not empty - they are occupied by dolls. This place is called one of the scariest in the world.
Only verified information is available on the OBOZ.UA Telegram channel and Viber. Do not fall for fakes!