Trending:
Seasonal no-flour mini pumpkin cheesecakes for tea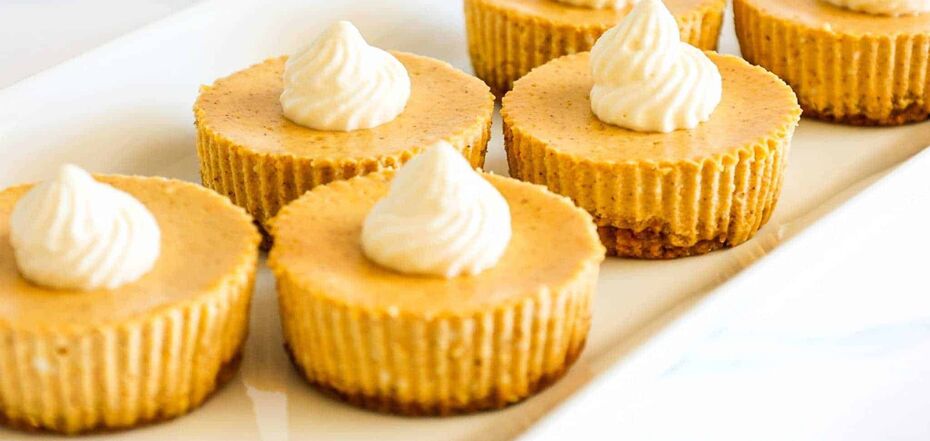 Mini cheesecakes with pumpkin for tea. Source: thesavorycipolla.com
Seasonal mini cheesecakes with pumpkin can be a great alternative to a variety of cakes. This dessert contains simple cookies with butter. The pumpkin curd mass becomes very tender and soft after baking. These are great for a cozy family tea party or even as a gift.
The idea of making mini-cheesecakes with pumpkin was published on the Instagram page of food blogger Valeria (yummy.lera). It is worth making this dessert right now because the pumpkin is ripe and very sweet.
Ingredients for the base:
50 g shortbread cookies
20 g of butter ⠀ ⠀
Ingredients for the filling:
200 g cream cheese
1 egg
100 g of pumpkin puree
40 g of sugar
a pinch of salt
20 ml of 33% cream
5 g of corn starch
spices: 1-1/2 tsp cinnamon and 1/4 tsp each nutmeg, ginger, cardamom, etc.⠀
Ingredients for the cream:
75 g of cream cheese
10 g of powdered sugar
20 ml of 33% cream
orange dye - optional
How to prepare the base:
1. Grind cookies in a blender until they become crumbs.
2. Add melted butter and mix.
3. Put into the molds and press well.
4. Put in the refrigerator while preparing the filling. ⠀ ⠀
Method of preparing the filling:
1. Add the egg, pumpkin puree, sugar, salt, cream, starch, and spices to the cream cheese.
2. Mix with a mixer until smooth.
3. Put it on top of the base and knock the mold on the table a little to distribute the mass evenly.
4. Put a container of hot water on the bottom of the oven, put the cheesecake pan on the middle level, and bake in a preheated oven to 160 degrees for 20 minutes.
5. Cool directly in the oven with the door ajar and refrigerate for several hours or overnight.⠀ ⠀
Method of preparation of the cream:
1. Beat cream cheese, powdered sugar, cream, and dye at the maximum power of the blender until thickened.
2. Place in a piping bag with a nozzle and drop onto the cooled cheesecakes.
3. Garnish with additional chocolate if desired.
You can also find recipes on OBOZ.UA: