Trending:
Nature's karma: 65% of Russia's territory is gradually turning into a swamp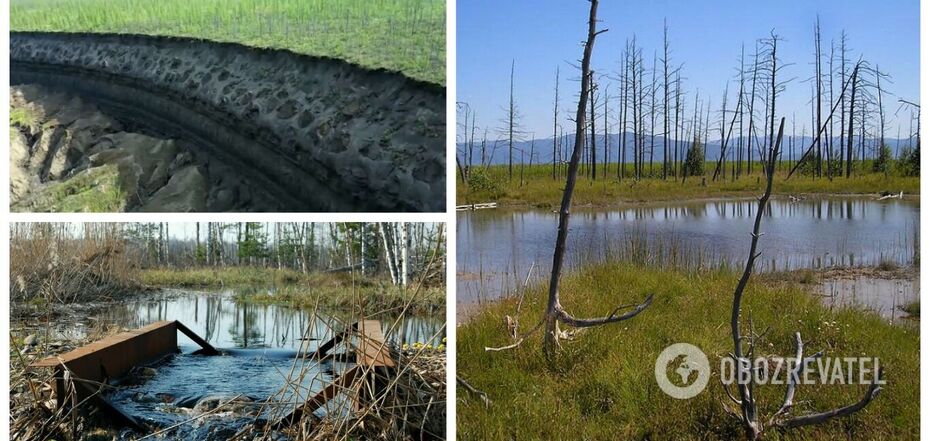 65% of Russia's territory is gradually turning into a swamp
Much of the territory of the terrorist state of Russia is turning into a swamp due to the rising temperature of the planet. Scientists say Russia is heating up at least 2.5 times faster than the rest of the world, melting the long-frozen tundra that covers about 65 percent of the country.
The warming is releasing greenhouse gases stored in the melted soil. This is reported by Reuters.
According to scientists, permafrost melting is already threatening cities in the north and northeast of Russia. Disturbance of the landscape leads to the destruction of roads, houses and pipelines. Moreover, forest fires, which have become more intense in recent seasons, are exacerbating the problem.
The Batagaika crater, which is a kilometer-long fissure in the Russian Far East, may play a special role in turning the RF into a swamp. It already forms the world's largest permafrost crater.
Experts note that the crater may attract tourists, but it is actually dangerous. In the future, as temperatures rise and anthropogenic pressure intensifies, more and more such craters will be observed until all permafrost disappears from the surface.
Locals in the Sakha Republic are frightened by the rapid growth of the crater. Scientists are not sure of the exact rate of expansion of the Batagaika crater. However, it is known that the soil beneath the landslide, which is about 100 meters deep in some places, contains a huge amount of organic carbon released into the atmosphere as the permafrost melts, further warming the planet.
As air temperatures rise, the crater will expand at a greater rate. This will then lead to even higher climate warming in the years to come.
Previously, scientists found that the abnormal heat wave in 2020 led to a sharp increase in methane emissions from melting rocks in the Arctic permafrost. This phenomenon is far more dangerous than the release of methane from melting swamps in Siberia's permafrost, known as the "methane bomb."
Only verified information we have in our Telegram channel Obozrevatel, Threads and Viber. Do not fall for fakes!