Trending:
Spectacular salad with crispy eggplant: how to prepare a seasonal appetizer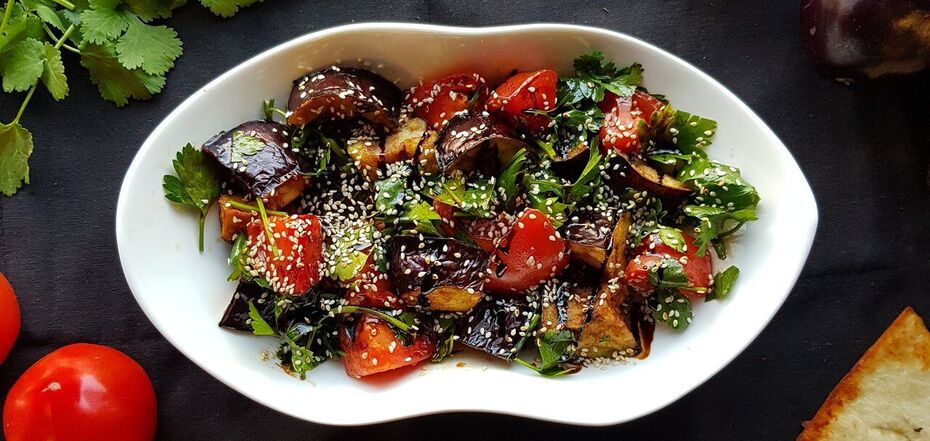 A delicious appetizer with crispy eggplant. Source: tripadvisor.com
While the eggplants are fresh, they can be made into delicious appetizers. A great option would be to make a salad. To do this, fry the vegetables to make them crispy.
The idea of making a salad with crispy eggplants was published on the Instagram page of food blogger Victoria with the nickname cook_with_me_at_home. It also contains juicy tomatoes and herbs.
Ingredients for two servings:
eggplant - 1 pc,
corn starch
tomatoes - 3-4 pcs.
cream cheese - 1/3 of a pack
parsley/cilantro - 1/2 bunch
oil for frying
balsamic - to taste
spices: salt, pepper - to taste
Method of preparation:
1. Wash eggplants and peel them (you can leave the skin on if you wish).
2. Cut into large and coarse pieces.
3. Season with salt, mix and set aside for 20 minutes.
4. Wash tomatoes and cut them into coarse pieces (I peel the tomatoes, dipping them in boiling water beforehand).
5. Chop parsley.
6. Remove excess moisture from the eggplant with paper towels.
7. Heat the oil.
8. Add starch to the dried eggplant and mix. There should be enough starch so that each piece is well coated.
9. Gently shaking off the excess starch, put in hot oil and fry on both sides over high heat until golden brown.
10. Put tomatoes and eggplants on a plate. Season with salt and pepper if desired.
11. Spoon the cream cheese and sprinkle with chopped parsley.
12. Drizzle with balsamic and serve.
You can also find recipes on OBOZREVATEL: