Trending:
From the gray mouse to the queen of elegance: the evolution of the style of Camilla, wife of King Charles IIІІ. Photo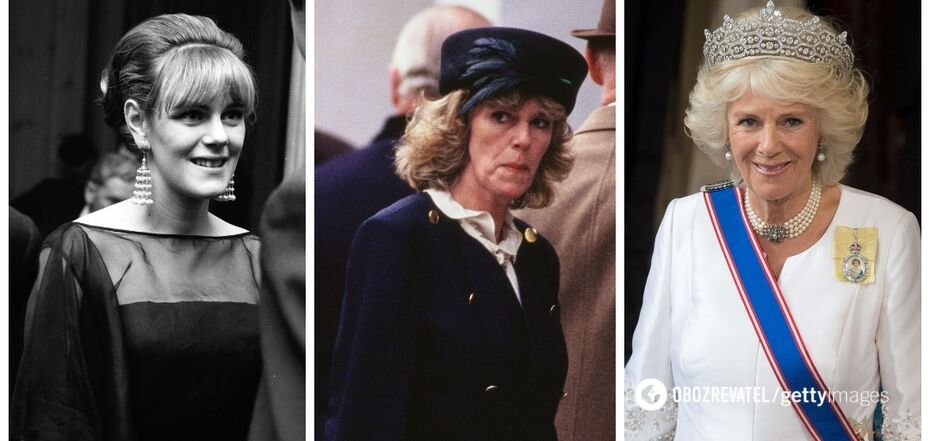 Camilla, the daughter of a military officer of noble birth, has come a long way in her 75 years from a scandalous mistress to a respected Consort Queen. For more than 30 years, the family of monarchs (especially Elizabeth II) was against Prince Charles III's relationship with his chosen one. Consequently, the two lovers had to separate and enter into marriages that were not saved by the birth of children or attempts to get closer to their lawful husband and wife.
We decided to remember how the style of the former Duchess of Cornwall has changed from acquaintance with Charles to the present day. Read more in the material OBOZREVATEL.
1970-е
Camilla and Charles met at a society party in the early 1970s. Then the Duchess started flirting with the Prince of Wales to annoy her boyfriend Andrew Parker-Bowles, with whom she was on and off. Charles immediately fell in love with a new acquaintance. He fell into the soul of an energetic girl, with a healthy sense of humor, temperament, and intelligence. Camilla was just fine with the prince.
Two years later, Charles proposed to his beloved, but she turned him down. She knew that the royal family would never approve of such a marriage to the heir to the throne. In 1973, Camilla legalized her relationship with Andrew. Later she gave birth to a son and a daughter by him. The prince did not want to cut ties. He often called his ex, and they talked for a long time. By the way, then Andrew was constantly cheating on his wife: repeatedly bringing mistresses to the London rented apartment.
In those years, the girl wore elegant monochrome dresses (mostly in dark colors) or with floral prints, as well as A-silhouette outfits. She also experimented with her hair: sometimes she cut off her bangs, then slightly curled the ends of her hair, or did voluminous styling.
1980-е
In 1981, Prince Charles III legitimized a relationship with Princess Diana, 19, whom the British royal family approved as the ideal candidate to be the future king's wife. After the birth of two sons (William and Harry), the couple has tried to create a strong family, where there is room for love, respect, and loyalty. However, they never really fell in love with each other. They agreed to a "free" relationship: everyone spends his personal time as he pleases.
Then Camilla and Charles, secretly from the royal family, resumed their relationship. The prince's mistress tried not to get caught by the paparazzi. She wore strict jackets, closed sweaters, and blouses in a classic palette (gray, black, beige, and milky). All to avoid attracting unnecessary attention.
1990-е
This is the hardest decade of Camilla's life. Then the media became aware of Charles's cheating, which began to be blamed on his mistress. No one knew about Lady Di's many affairs at that time. Camilla broke up with Andrew and was branded a divorcee. In 1996, the prince officially divorced his wife, and a year later Diana tragically died in a car crash. Because of the barrage of abuse and criticism, Camilla had to hide in a remote country estate.
In the 1990s, the future queen wore classic business suits in a muted palette and hats with unusual tailoring. Sometimes she could be seen in her riding clothes.
2000-е
In the early 2000s, Camilla began to rehabilitate herself in the eyes of society. As the bride of Charles II, she attended social events and engaged in charitable projects. In 2005 she officially became the wife of the heir to the throne.
From this stage onward, quite a few dresses and suits with skirts in delicate pastel colors (pink, milky, pistachio, sky blue, white, and so on) appeared in the Duchess' closet. A lot fewer things are in dark colors: noble burgundy and black. In addition, Camille began to wear outfits with a V-neck and open shoulders. The neckline area was emphasized with massive necklaces.
2010-е
During this period, the wife of Charles III travels extensively, does charity work, and diligently performs official duties as a member of the royal family. This helped her to permanently improve her image.
In the 2010s the Consort Queen-to-be's style matured completely, with pastel colors, A-silhouettes, cocktail midi dresses, and elegant fancy suits dominating her closet. For special events, the Duchess chose hats, velvet, and silk evening dresses with deep necklines, tweed suits, or exquisite embroidered outfits.
2020-е
Now Camille continues to wear her favorite cut - A-silhouette dresses. Recently, however, she has been appearing at celebrations more and more often in bright and saturated colors: red and blue. Less often she experiments with prints, adding geometric and floral patterns to her closet. She makes her hair voluminous by slightly twisting the ends of her hair.
Earlier OBOZREVATEL wrote about 5 stylish techniques of the young Charles III, which are still relevant today.
Only verified information in our Telegram channels Obozrevatel and Viber. Do not be fooled by fakes!