Trending:
Addiction was stronger: five celebrities who died from drugs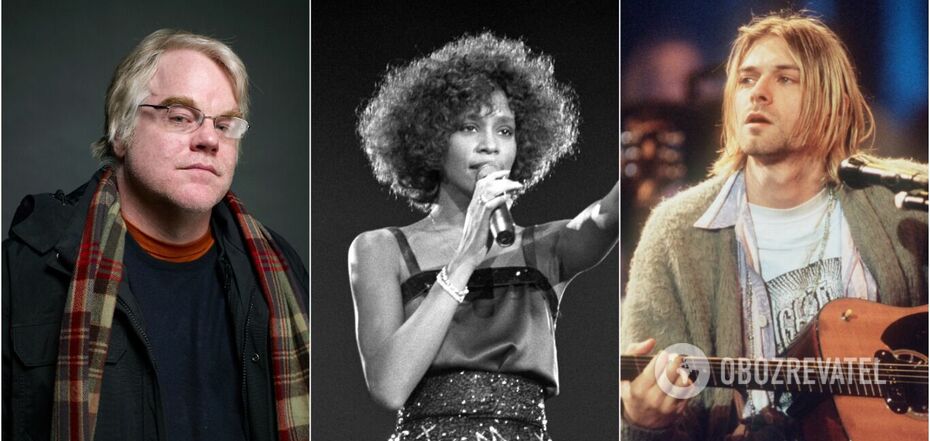 Stars who died from drugs
Watching the beautiful picture called "celebrity life", we may not even realize how many problems, pain and difficulties are hidden from prying eyes. With great fame, influence and royalties very often come depression, burnout and feelings of loneliness. In an attempt to hide from reality, some stars make a big mistake - they start using drugs.
For some, forbidden substances have literally become a way of life. Daily use of drugs in large doses has ruined not only the career, but also the lives of some world-famous persons. OBOZREVATEL will tell about some of them.
Whitney Houston
1963-2012 (48 years)
The death of the legendary soul diva in February 2012 shocked the whole world. The body of the iconic American singer and actress was found in a hotel room in Beverly Hills. For a long time it was believed that the singer of the world hit I Will Always Love You suffocated in the bathtub, having taken a large dose of antidepressants and alcohol, but the official results of the autopsy and investigation show that Whitney Houston died of heart failure caused by long-term use of cocaine.
Philip Seymour Hoffman
1967-2014 (age 46)
One of the most sought-after American film actors of the 2000s-2010s, Oscar, Golden Globe and BAFTA award winner died at the age of 46 on February 2, 2014. The cause was an overdose of four types of drugs, including heroin and cocaine. Hoffman's body was found in his own apartment in Manhattan, and 70 different bags of drugs were found nearby.
Elvis Presley
1935-1977 (42 years)
The king of rock 'n' roll died on August 16, 1977, when there were still many prospects ahead in both career and personal life. The breathless body of the iconic musician was found by his fiancée Ginger Alden. An ambulance arrived on the scene - Presley was hospitalized in the intensive care unit with the hope of salvation. After a series of necessary rehabilitation measures, which were not successful, the doctors stated the death of the legend. The cause was an overdose of barbiturates.
Kurt Cobain
1967-1994 (27 years old)
Another legend whose life was cut short unjustly early. The founder and leader of the cult rock band Nirvana died on April 5, 1994. Kurt Cobain suffered from deep depression, which led him to a strong heroin addiction. The musician repeatedly went to rehabilitation centers, but treatment in them did not bring results. As a result, Cobain's relationship with members of his band began to deteriorate, which contributed to the worsening of the star's depressive state. As a result, the musician shot himself in the head with a shotgun in his own home in Seattle. However, it was drugs that killed Kurt, because before committing suicide, he took a lethal dose of heroin. The rocker is one of the most famous "members" of the tragic "27 Club", which includes influential musicians who died at the age of 27, often in bizarre circumstances.
Lil Peep
1996-2017 (21 years)
Lil Peep is a famous American rapper who achieved great fame at a fairly young age and could have achieved even more if he had not died of a drug overdose at the age of 21. The body of a young guy was found right in a concert bus before a performance in the city of Tucson, USA. As the examination showed, Gustav Aro (real name of the performer) shortly before his death took cannabis, cocaine, tramadol and other illegal substances. Opioids were also found in the rapper's body.
Earlier OBOZREVATEL wrote about celebrities who died of alcoholism. These stars drank daily, which eventually led to serious liver and heart disease, as well as accidents. All the details - in our material.
Only verified information we have in Telegram-channel Obozrevatel and in Viber. Do not fall for fakes!