Trending:
"Ukraine does not need Russia's permission to join NATO": Vice Speaker of the Verkhovna Rada Kondratiuk responds to her Hungarian colleague's words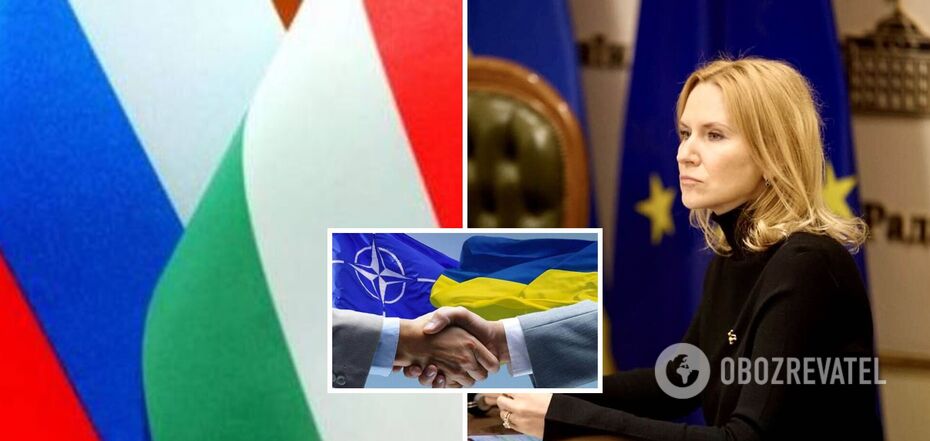 Kondratiuk addresses Hungary
The Deputy Speaker of the Verkhovna Rada, Olena Kondratiuk, responded to the words of her Hungarian counterpart, Dóra Dúró, who said in an interview with the Kremlin's media outlet that Ukraine should obtain Moscow's permission to join NATO. Such a remark demonstrates not only a disregard for the sovereignty of our country, but also generally contradicts the standards of European states, including Hungary.
The MP wrote about this on her Facebook page. Kondratiuk even expressed hope that the Russian media had incorrectly quoted Duro's real words, traditionally distorting them, and that if this was not the case, the official representative of Budapest should apologise for them.
"If this does not happen, it is another reason to think about whose side Hungary is playing. When Hungary joined NATO in 1999, it did not need any permission from Russia. I would also like to remind Madam Vice-Speaker of the historical events of 1956, when the dictatorial regime of the former Soviet Union crushed the sprouts of democracy in Hungary. Tens of thousands of Hungarians were repressed, and thousands lost their lives!" the Ukrainian Vice Speaker wrote.
She also noted with regret that all the scandalous statements made by the Hungarian leadership today regarding Ukraine's accession to NATO are made "under the umbrella of NATO security". This position is surprising, to say the least.
"Doesn't history teach us anything? Is it possible to be under the NATO umbrella and at the same time try to play along with the followers of the USSR - today's Putin regime in the terrorist country of Russia? Don't betray the memory of your people, Madam Deputy Speaker!" Kondratiuk wrote in conclusion.
Earlier, OBOZREVATEL reported that the odious Hungarian Prime Minister Viktor Orban once again demonstrated his commitment to the Kremlin by spreading its propaganda and ridiculous narratives about Ukraine. This time, he called our country "financially non-existent".
Later, he reacted negatively to NATO Secretary General Jens Stoltenberg's promise to facilitate this membership, which he made during a meeting with President Zelenskyy in Kyiv. Orban made his extremely concise but unambiguous remark on Twitter.
Only verified information is available in our Obozrevatel Telegram channel and Viber. Do not fall for fakes!