Trending:
How to make homemade sweet candied pumpkin: for baking or instead of candy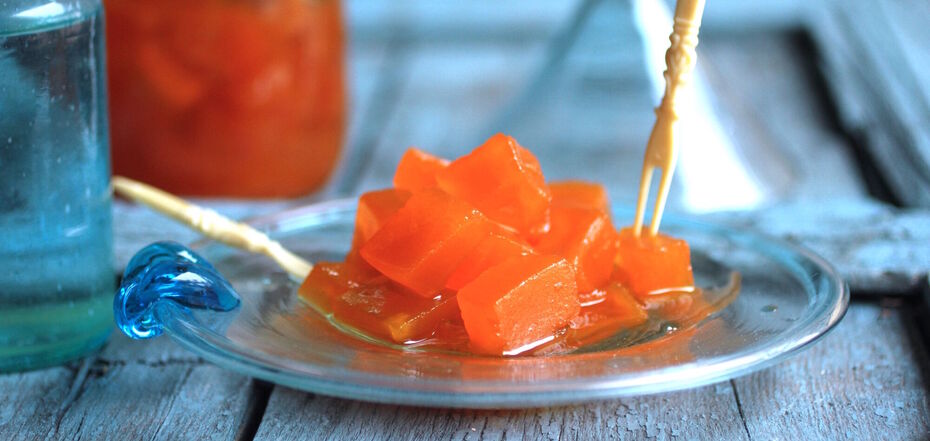 How to make candied pumpkin. Source: tasteofbeirut.com
Seasonal autumn pumpkin can be used to make not only porridge or pies, but also very sweet and tasty candied fruit. To make them, you need only natural ingredients. You can use them for a variety of baked goods or eat them instead of candy.
The idea of making homemade candied pumpkin is published on the tastystories.feed culinary page on Instagram. The atmospheric pumpkin aroma will spread throughout the kitchen.
Ingredients:
pumpkin - 2 kg
sugar - 1 kg
water - 200 ml
orange - 1 pc
lemon - 1 pc.
cloves - 5 pcs.
cinnamon - 2 sticks or half a teaspoon of powder
corn starch - for sprinkling (about 3 tbsp)
Method of preparation:
1. Peel the pumpkin and cut it into cubes of about 1-1.5 cm, or into strips. Keep in mind that they will shrink by about 3 times.
2. Combine sugar, water, orange juice, lemon juice, cloves, and cinnamon in a heavy-bottomed saucepan.
3. Heat over medium heat to melt the sugar.
4. Grind the lemon peels into a zest and add to the syrup.
5. Cut the orange peels into strips and add to the syrup along with the pumpkin.
6. Put the pumpkin in the syrup and put it on medium heat, stirring occasionally. When it boils, turn off the heat and leave it in the pan for several hours or overnight.
7. Then boil again and leave to cool. Repeat this again.
8. Pour the syrup into a jar. Then you can use it for pancakes, cheesecakes and other pastries.
9. Put the candied fruit on a baking sheet covered with parchment.
10. Put in a preheated oven to 70 degrees for 3 hours.
11. Leave the oven door slightly open.
12. After three hours, remove and leave to cool.
13. Sprinkle with cornstarch and mix so that each candied fruit is coated and does not stick together.
14. Put them in a jar.
You can also find more recipes on OBOZ.UA: