Trending:
Whether the phone attracts lightning and why to turn off electrical appliances: truth and myths about thunderstorms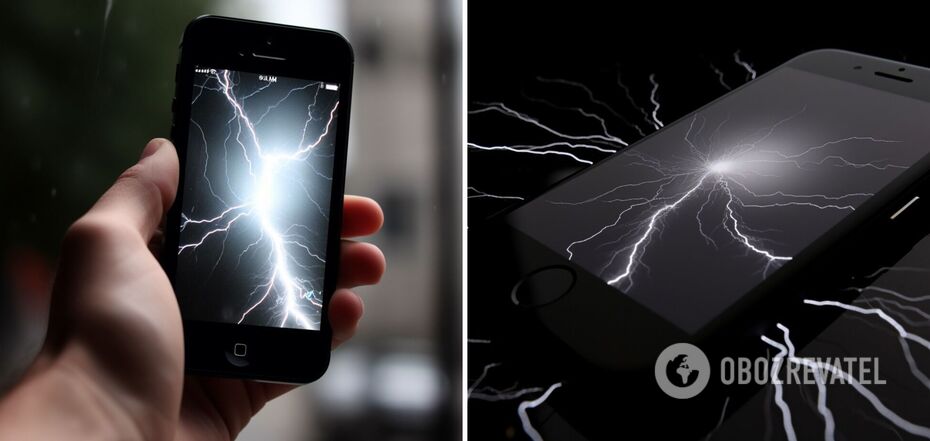 It is necessary to know how to behave during a thunderstorm so that lightning does not hit a person
Lightning is an electronic discharge between clouds or between a cloud and the ground. We know from school that it is dangerous to use gadgets during a thunderstorm and that all devices should be disconnected from the power grid.
A lightning strike in a person with a high probability can tragically end, so it is necessary to follow the rules to avoid it. OBOZREVATEL will help to cope with this.
Modern man can not be imagined without a smartphone, it is always with us, wherever we are. But when a thunderstorm starts, then most people do not use their phone, so as not to bring trouble on themselves.
According to experts, the electromagnetic field that the phone emits is negligible. Therefore, there is no evidence that calling a phone during a thunderstorm or using it increases the likelihood of being struck by lightning. This is also true for other gadgets.
But it is necessary to turn off electrical devices. This will help avoid serious damage and danger to your entire home if lightning strikes a transformer station or other electrical installation.
Also, tall structures are especially vulnerable to lightning. These can include buildings standing on hills, trees, television antennas, and poles.
During a thunderstorm, you should never go near electrical lines because they attract lightning and a strike can strike a person.
If dangerous weather catches you while on vacation in the mountains or in nature, you should immediately drive away from there or look for a safe shelter. Because mountains, wet sand and bodies of water also attract lightning.
Earlier OBOZREVATEL told what happens to a person after a lightning strike.
Subscribe to OBOZREVATELchannels in Telegram, Viber and Threads to be aware of the latest events.