Trending:
Salad with red cabbage and oranges: a recipe for a healthy and easy dish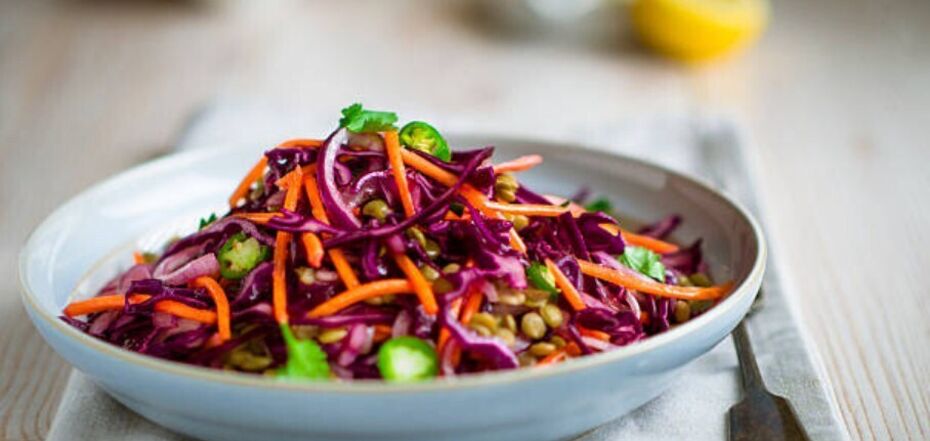 Cabbage salad
Purple cabbage is a very useful vegetable, which is ideal for making salads, it can also be pickled. For cabbage salad to be juicy, be sure to knead it with your hands, then add salt, spices.
Cook Tatiana shared on Instagram a recipe for a delicious and very easy-to-make purple cabbage salad with orange juice dressing.
Ingredients:
orange - 1-2 pcs.
purple cabbage - 1/2 pc.
shallots (or onions, steeped in boiling water) - 1 pc.
walnuts - 50 g
For dressing:
olive oil - 2-3 tbsp.
orange juice
honey - 1 tsp.
mustard with grains - 1 tsp.
black pepper - to taste
Method of preparation:
1. Shred the cabbage thinly, salt and knead well with your hands.
2. Peel the orange with a knife, cut off the white part, then with a sharp knife cut out the slices, do this over a plate to collect all the juice that runs down.
3. Add the orange slices and onions to the cabbage.
4. Dressing: mix orange juice, olive oil, mustard, black pepper, mix.
5. Pour the dressing over the salad and stir.
Also on OBOZREVATEL you can read the recipes:
<a href="https://food.obozrevatel.com/salatyi/poleznyij-salat-s-kapustyi.htm" target="_blank">Healthy cabbage salad</a>
<a href="https://food.obozrevatel.com/salatyi/salat-iz-krasnoj-kapustyi.htm" target="_blank">Red cabbage salad</a>