Trending:
Kadyrov says Delimkhanov is allegedly alive and publishes last year's photo: what a slip-up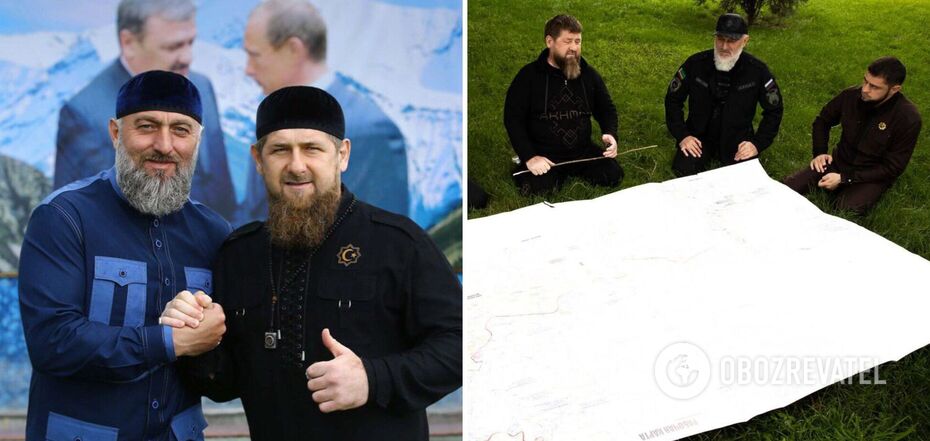 Kadyrov said that Delimkhanov was allegedly alive and had not been wounded
Chechen leader Ramzan Kadyrov said that Adam Delimkhanov, a State Duma deputy close to him, was allegedly alive and well. Before that, information had spread that his associate might have been wounded or even eliminated by an AFU strike on the "Kadyrovites'" base in Primorsk, Zaporizhia.
Kadyrov wrote about this in his Telegram channel. He gave out that he allegedly initially knew that Delimkhanov was not wounded.
"I knew this from the very beginning of the fake throw-in, but I decided to show everyone, first of all Ukrainians, to what extent their media have sunk. It takes a lot of disrespect for your audience to blatantly lie, knowing full well that the lies can be refuted. And when I poured oil on the fire, the authors of this hoax already believed their own fairy tale," Kadyrov said.
In confirmation of his words he published a photo of himself and his comrade-in-arms, which was allegedly taken today. However, it turned out that this picture was taken last year.
This was reported by the Russian "Agency. News" in Telegram. Thus, in the picture Kadyrov together with Delimkhanov is sitting on the grass in front of the map of the occupied territories of Ukraine. Next to them are Chechen Minister of Foreign Affairs Akhmed Dudayev and the head of the republic's parliament, Magomed Daudov.
The picture was intentionally edited so that it is impossible to see any populated areas on the map, only the general outlines are visible. The front line marked there is very different from the actual situation.
Military analyst Ian Matveev believes that the map shows the positions on the front as of summer-autumn 2022.
In addition, there are questions about the weather conditions in the photo. For example, on Wednesday, June 14, thunderstorms were expected in Grozny, and before that heavy rains covered Chechnya. Bad weather, however, according to Kadyrov, did not prevent him and his comrades-in-arms from sitting on the grass and laying out a map in front of them.
All these arguments suggest that the photo with Delimkhanov is old, and the information about his alleged unharmedness in this connection is not credible.
As OBOZREVATEL reported:
- On the evening of June 13, the Ukrainian Defense Forces struck at the Lazurnaya recreation center in Primorsk, Zaporizhzhia region. Local media reported that "Kadyrovites," including high-ranking associates of the Chechen leader, had set up a base there. They wrote that Adam Delimkhanov, a member of the Russian State Duma who is close to Ramzan Kadyrov, was wounded as a result of the "bavovna".
- Kadyrov said that he was unable to get in touch with his "dear brother" Delimkhanov, who had stopped all contact with him. In this connection, the Chechen leader appealed to the Ukrainian military intelligence service, promising a "generous reward" for information about Delimkhanov.
- The positions held by Delimkhanov, an associate of Kadyrov, might have been leaked by the Vagnerites. This was stated by the former brigade commander of the Russian 72nd Brigade, Roman Venevitin, who had earlier been taken prisoner by the mercenaries of the Wagner Cheka.
Only verified information in our Telegram channel Obozrevatel and in Viber. Do not be fooled by fakes!