Trending:
How to free up a lot of closet space: a vertical way to store bedding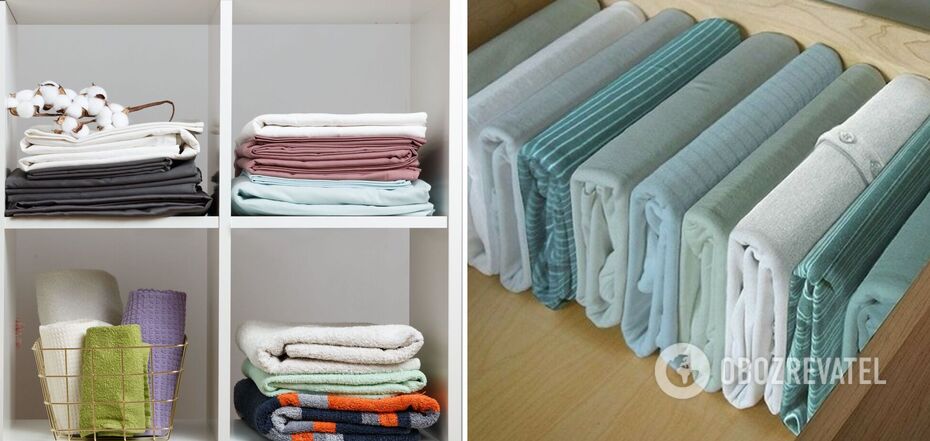 How to store bedding compactly
There is usually not enough space in the closet for the clothes you need. Sometimes the problem is indeed the small size of the wardrobe, but most often it is the wrong placement of things.
It is convenient to store bedding, towels, and rugs in an upright position. OBOZREVATEL figured out how to organize this quickly and efficiently.
Several sets of bedding can take up too much space on the shelves. But there is one life hack that will help you compactly fold a pillowcase, sheet, and duvet cover. It takes five simple steps.
Step 1. Fold the pillowcases and sheet several times to form small rectangles.
Step 2. Fold the duvet cover in half and unfold it on the bed.
Step 3. Place the pillowcases and sheet approximately in the middle of the duvet cover. Align them with the width. Turn the duvet cover several times so that the pillowcases and sheet are inside. You should get a rectangular shape, not a square one.
Step 4. Wrap both ends of the duvet cover on the sides and place the left end in the right.
Step 5. Return the bedding in this way in an upright form to the dresser drawer.
Recall, experts advise using the Japanese Konmari method for warm sweaters, sweatshirts, cardigans and sweatshirts.
OBOZREVATEL also shared how to store seasonal items properly, including outerwear. JJackets and down jackets should not be rolled, twisted, or folded; it is better to hang them on a hanger. And it is recommended to put fur products in special bags.
Subscribe to OBOZREVATEL Telegram and Viber channels to keep up with the latest news.