Trending:
"Fur coat" without herring: how to replace the main ingredient in the salad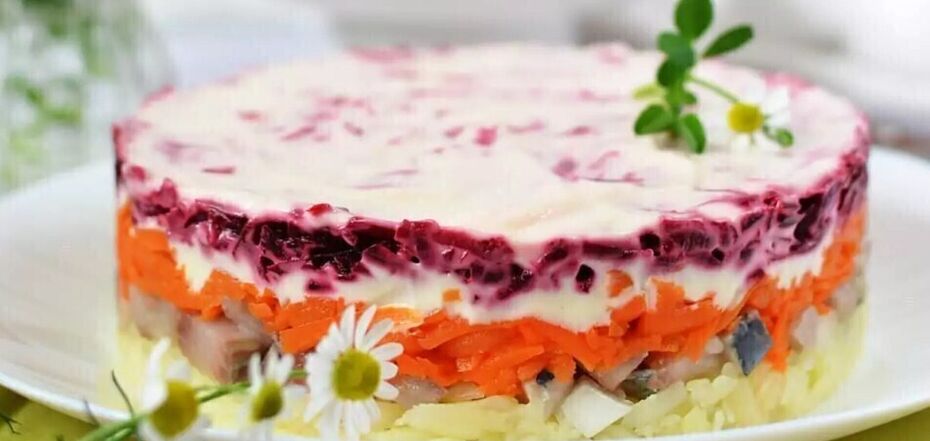 The recipe for "Fur coat"
Every hostess knows how to cook the easiest and tastiest salad "Fur coat". Two main ingredients are always used for the preparation - beets and herring, but it should be noted that herring in the dish can be replaced by baked mackerel, salmon, trout.
Culina Tatiana shared on Instagram a recipe for a delicious "Fur coat" with lightly salted salmon and melted cheese.
Ingredients:
Lightly salted salmon or trout - 150 g
potatoes - 2 pcs.
carrots - 2 pcs.
eggs - 2 pcs.
melted cheese - 2 pcs.
beet - 3 pcs.
green onions - a bunch
mayonnaise
Method of preparation:
1. Boil the vegetables and eggs, cool, peel and grate.
2. Cut the fish and onion into small pieces.
3. Assemble the salad in layers: potatoes, mayonnaise, fish, onions, mayonnaise, eggs, mayonnaise, cheese, mayonnaise, carrots, mayonnaise, beets, mayonnaise. You can decorate the top of the salad with red caviar. Put the salad in the refrigerator to soak well.
Also on OBOZREVATEL you can read the recipes:
<a href="https://food.obozrevatel.com/salatyi/salat-shuba-s-yablokom.htm" target="_blank">Salad "Fur coat" with apple</a>
<a href="https://food.obozrevatel.com/salatyi/salat-shuba-po-novomu.htm" target="_blank">New salad "Fur coat"</a>