Trending:
Don't forget to fertilize: what to add to garlic to increase yields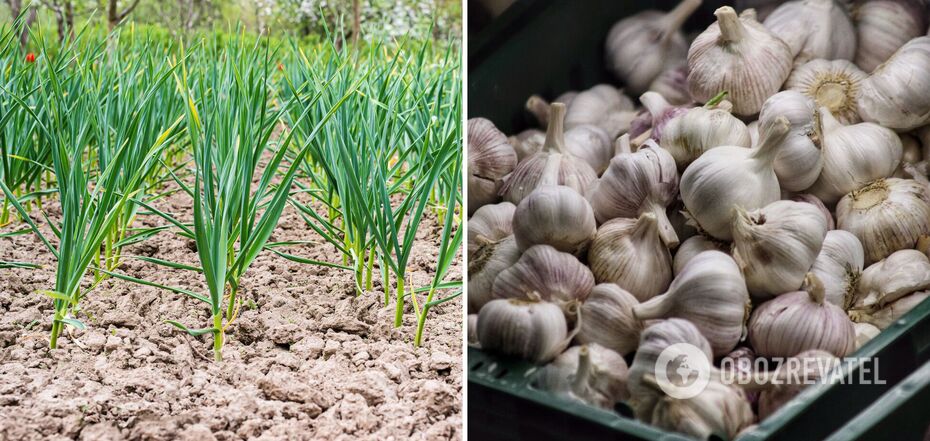 How to feed garlic
As early as late July and early August, gardeners begin to harvest winter garlic. In general, the timing of maturation depends on the characteristics of the variety and climatic conditions as the level of precipitation and temperature fluctuations should be taken into account.
If garlic has not had time to gain enough mass, experts advise making an express feeding. To know what to add, read OBOZREVATEL material.
There is a general rule: early varieties mature 85-95 days after the emergence of seedlings, while late varieties begin to be harvested at least 100 days after sprouting (the optimal term is 100-110 days). For the last feeding, it is better not to choose chemical preparations as natural means will act no less effectively.
Wood ash
Fertilization with wood ash is considered one of the most effective. It helps to build up mass in a relatively short period.
Pour 10 liters of water into a container and add 1 cup of wood ash.
The solution should be infused for at least 72 hours.
Do not water garlic during the active sun, it is better to choose the evening or morning hours.
Humus
If garlic grows on poor soil or the rules of plant neighborhood or crop rotation were violated, feed the culture throughout the season. Experienced vegetable gardeners say that you can make humus to improve the harvest. Calculate the amount of fertilizer as follows: one bucket of humus per 1 square meter of garlic bed.
Iodine
Iodine should be used carefully in precise proportions, so as not to burn the roots and above-ground part of the plant. For 10 liters of water, take 40 drops of iodine and carefully spray the solution on the garlic itself.
By the way, early dug winter garlic is soft to the touch and has fewer useful properties. Late harvest, on the other hand, is unsuitable for long-term storage and will quickly spoil. To know how to tell if garlic is ripe, read our material.
Earlier OBOZREVATEL shared how to properly preserve garlic for the winter.
Subscribe to OBOZREVATEL channels in Telegram, Viber and Threads to be aware of the latest events.