Trending:
How to make thick homemade ketchup without vinegar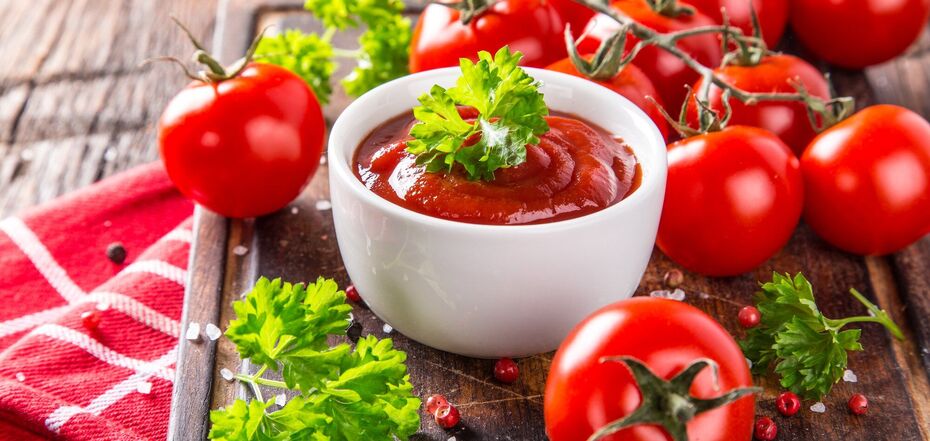 Homemade ketchup. Source: depositphotos.com
Homemade ketchup is very easy to make at home and will be no worse than store-bought. For a bright flavor, it can be supplemented with apples and peppers, as well as spicy spices.
Food blogger Halyna Duma (reeixit) shared a recipe for homemade ketchup without vinegar on her Instagram page.
Ingredients:
tomatoes - 3 kg
sour apples - 0.5 kg
plums - 0.5 kg
onions - 0.5 kg
bell pepper - 2-3 pieces
garlic - 3 cloves
beets - 1 pc
Spices:
cinnamon - 0.5 tsp.
cloves - 3-4 pcs
coriander - 1 tsp.
granulated garlic - 2 tsp.
pepper - 0.5 tsp.
salt - 3 tsp
sugar - 150 g
lemon juice - 2 tbsp. l.
For density:
cold water - 100 ml
starch - 2 tbsp. l.
Method of preparation:
1. First, peel the apples and remove the core. Remove pits from plums. Cut the fruit and all vegetables into small medium-sized pieces.
2. Blend the prepared ingredients in a blender or grind through a meat grinder, add lemon juice to the mixture and cook for 1 hour, stirring constantly.
3. Add all the necessary spices to the total mass. Cook for another 1 hour.
4. After that, rub the ketchup through a sieve.
5. Mix water and starch separately and add the resulting mass to the ketchup. Put everything back on fire and cook until thick, stirring constantly.
6. Pour the hot ketchup into sterile jars and close the lids. Store the sauce in the refrigerator or the apartment. It's ready!
You can also find more recipes on OBOZREVATEL: