Ukrainian military shot down upgraded Chinese Mugin-5 drone in the Donetsk region - CNN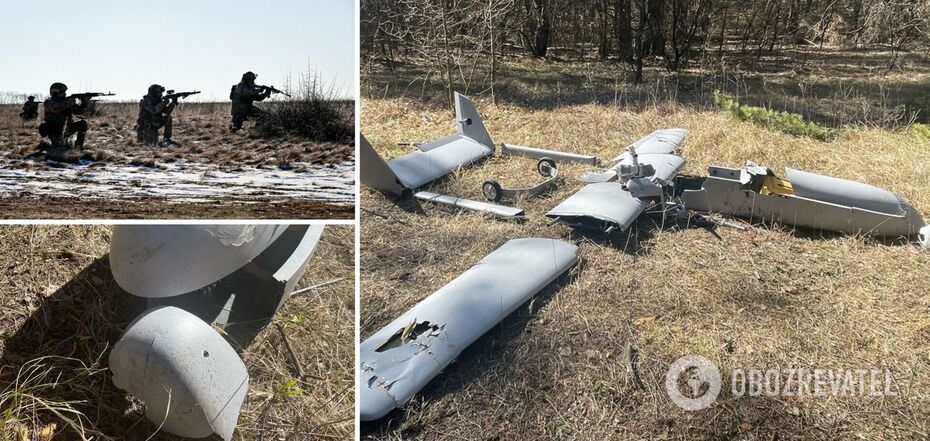 Ukrainian soldiers shot down Chinese Mugin-5 drone in the Donetsk region
On the night of March 11, Ukrainian Armed Forces soldiers shot down a modernised Mugin-5 drone launched by the enemy in the Donetsk region using an AK-47 rifle. It is manufactured by the Chinese company Mugin Limited, based in the port city of Xiamen on the east coast of China.
Some tech bloggers say that these devices are known as "Alibaba drones" because they were available for sale for up to $15,000 on Chinese marketplaces, including Alibaba and Taobao. The manufacturer confirmed that it was their UAV, calling the incident "extremely sad," according to a CNN report (scroll down to the end to see photos and video).
"This is the latest example of a civilian drone being upgraded and armed after Russia's invasion of Ukraine, indicating rapidly changing warfare patterns," analysts said.
According to them, on the night of Friday to Saturday, the Security Service of Ukraine told the publication that SBU agents based in Russian-held territory warned that a UAV had been launched from there and was heading for a Ukrainian target.
The SBU then raised the alarm in military units based in eastern Ukraine, not far from Sloviansk. Around two in the morning on Saturday, soldiers of the 111th Brigade of the Territorial Defence Forces of Ukraine heard a drone in the sky and even saw a flashing light on it.
"Along the frontline, we mostly conduct aerial reconnaissance all the time... According to the sound and the flashing light, the military fired a lot at the UAV and shot it down. It was flying at a very low altitude - close enough to be shot down with a handgun," Maksym, a 35-year-old territorial defence member, told reporters.
The soldiers showed the wreckage of the drone lying on the forest ground. A bullet hole was visible in the nose of the drone, which had caused significant damage. Nearby, the soldiers also showed a small hole in the ground caused by the UAV's load, a bomb weighing about 20 kg, which was later safely detonated by Ukrainian soldiers.
CNN has asked the Russian Ministry of Defence for comment on the incident, but has not yet received a response.
In turn, retired British army officer and drone expert Chris Lincoln-Jones explained that the Mugin-5 UAV in question did not have a camera installed. According to him, this means that the drone could not be used for surveillance, so it essentially makes it look like a "dumb bomb".
"This particular drone we were looking at would have been much more effective if it had a decent camera. The machine adds more evidence to the theory that Russia is not the military superpower the world could count on. It seems to be a very crude, unsophisticated, not very technological way of conducting operations," he said.
The expert added that such Chinese UAVs are very cheap by military standards. In his opinion, the occupiers will continue to use "much more artisanal weapons", and Ukrainians should do everything possible to neutralise them.
CNN notes that in January 2023, the "authorities" of the part of the Luhansk region temporarily occupied by the Russian Federation claimed that militants "shot down a Mugin-5 launched by Ukrainian troops". Ukrainian officials have not commented on this particular incident, but experts have pointed to evidence that "both sides in the war have used such technology".
"Both Russia and Ukraine have used commercially available Chinese platforms such as this one, including for military purposes. In this case, the Mugin-5 Pro was likely used as a 'bomber' rather than a unilateral attack UAV," explained N.R. Janzen-Jones, an arms and munitions intelligence specialist and director of Armament Research Services.
According to him, the munition loaded on the drone was most likely of a " high-explosive" design, which was "simple and not very aerodynamic". He also added that the bomb's release mechanism was apparently made from 3D-printed components, which "suggests that the UAV was quickly upgraded".
Experts say that as weapons evolve in real time on the battlefields of Ukraine, the civilian companies behind the killer technology are now scrambling to find ways to prevent their products from entering the military supply chain.
"We do not endorse the use. We're doing everything possible to stop it," a spokesperson for Mugin Limited, which makes the Mugin-5, told CNN.
In a previous statement posted on the company's website on March 2, the latter claimed to "condemn" the use of its products during the war and said it had stopped selling products to Russia or Ukraine at the start of the invasion.
Journalists contacted half a dozen other companies whose electronic components were found in the downed UAV. These include servos from MKS, a Taiwanese manufacturer of electronic devices.
"Some UAV manufacturers may use MKS servos on their finished products for military purposes. We are unhappy with this, and it goes against our company's mission and vision," said an MKS spokesperson.
A disclaimer on the company's website also states that their products are "prohibited" for any illegal or military use.
The sensor on the UAV's upgraded circuit board was manufactured by Novatel, part of the Hexagon group based in Canada, which supplies industries such as agriculture, construction and automotive.
"For all export-controlled products, we have extensive control processes in place to ensure that they are provided in accordance with applicable export laws. In April 2022, we also decided to freeze all activities in Russia," said a Hexagon spokesperson.
Despite signs that the use of UAVs in this fight is gaining momentum, Ukrainian fighter Maksym denies that this has become a "drone war". In his opinion, this is not a war of technology, but rather a "war of people".
As OBOZREVATEL previously reported, the Ukrainian Armed Forces shot down a Russian drone, which propagandists called "invisible and invulnerable". In particular, the enemy's ZALA 421-16E2 reconnaissance drone was "landed" by soldiers of the 58th Hetman Ivan Vyhovskyi Mechanised Brigade.
Only verified information is available on our Telegram channel Obozrevatel and Viber. Do not fall for fakes!