Trending:
Volcanic eruptions recorded all around the world: experts explained whether it's time to panic or not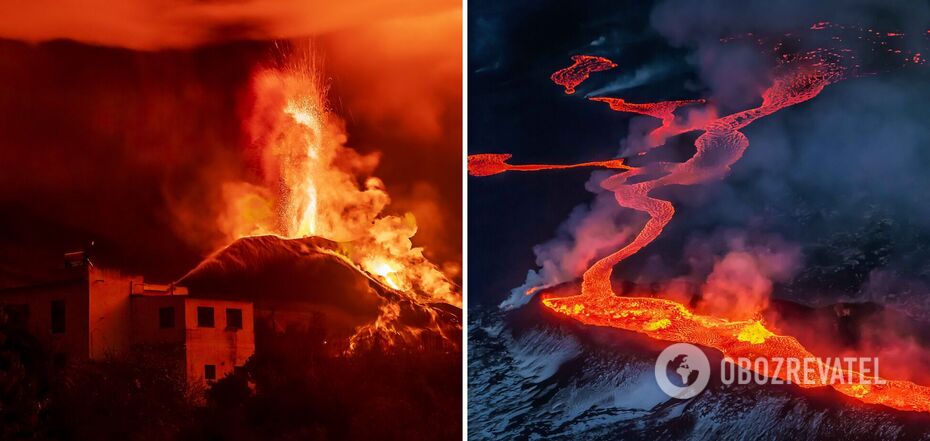 46 volcanoes are in a state of ''continuous eruption''. Source: Getty/collage by OBOZ.UA
Volcanic eruptions seem to have taken their place in many headlines in recent weeks. Volcanoes are spewing ash and smoke in Mexico and Italy and an underwater volcano has awakened in Japan, forming a new island. Moreover, an entire city has been evacuated due to the threat of an eruption, with cracks in the streets. The picture looks apocalyptic, to put it mildly, and social media is already fearful that it will soon get even worse. But scientists have their own point of view on what is happening.
Experts are convinced that there is no cause for concern, saying that the level of volcanism observed is quite normal. According to the US Geological Survey (USGS), there are approximately 1,350 potentially active volcanoes in the world.
"There are currently about 46 volcanic eruptions on Earth (on land). We live on an amazing planet. It's absolutely normal," wrote Janine Krippner, a physical volcanologist at the University of Waikato in New Zealand, on her X (formerly known as Twitter) page.
According to the Smithsonian's Global Volcanism Program, 46 volcanoes are currently in a state of "continuous eruption," according to the latest data. This means that there is an eruption approximately every three months, and some volcanoes, such as the one in Mexico, have been erupting since 2005. The number of volcanoes that are in a state of continuous eruption usually reaches 40-50, with about 20 of them erupting every day.
According to a report published on November 14, 2023, 19 volcanoes are in an active, almost daily state of eruption. Here is a list of these volcanoes.
Reykjanes on the Reykjanes Peninsula, Iceland;
Aira on the island of Kyushu, Japan;
Dukono in Halmahera, Indonesia;
Ebeko on the island of Paramushir, Russia;
Etna in Sicily;
Fuego in Guatemala;
Great Sitkin in the Andreanof Islands, USA;
Lewotolok on the island of Lembata in Indonesia;
Mayon in Luzon, Philippines;
Merapi in Central Java;
Popocatépetl in Mexico;
Rincón de la Vieja in Costa Rica;
Santa Maria in southwestern Guatemala;
Semeru in East Java;
Shiveluch in Central Kamchatka, Russia;
Shishaldin in the Fox Islands, USA;
Suwanosejima in the Ryukyu Islands, Japan;
Taal in Luzon, Philippines;
Villarrica in Central Chile.
Christopher Kilburn, professor of volcanology and geophysical hazards at University College London, agrees that there is nothing unusual about the simultaneous eruption of a dozen volcanoes.
According to the scientist, the media hype around eruptions, especially when a volcano wakes up near a settlement or there is a spectacular video showing volcanic activity.
For her part, Jenni Barclay from the University of East Anglia frankly stated that the point is not that volcanoes are erupting more often, but that people are noticing it more often.
This was the case last week when all the media were talking about the evacuation of the small Icelandic town of Grindavik. The published footage showed the city's roads broken by volcanic activity, as well as the city's residents hastily taking their belongings from their homes.
At the same time, experts warn that panic is unnecessary, as Iceland - and the Grandavik region in particular - is a center of volcanic activity.
Edward Llewellin, a volcanologist at Durham University in England, noted that the 2010 eruption of Eyjafjallajökull volcano in Iceland was so impressive (almost all EU air traffic was affected by smoke) that the mere mention of a volcano in Iceland leads to increased interest. In particular, he noted that the activity near Grindavik was all over the news but eruption had not even occurred yet.
Earlier, OBOZ.UA reported that the Campi Flegrei supervolcano, the last eruption of which took place almost 500 years ago, is likely to explode in Italy.
Subscribe to OBOZ.UA on Telegram and Viber to keep up with the latest events.