Trending:
How to travel with pets in Ukraine and abroad: rules and nuances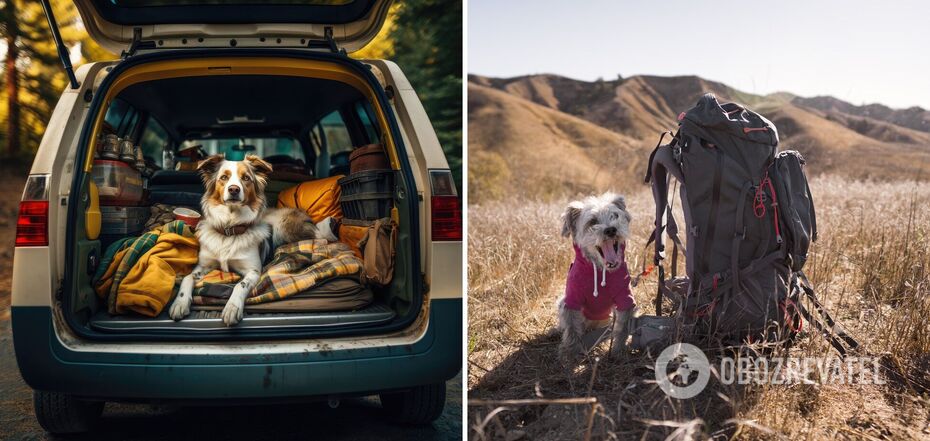 How to travel with pets comfortable
Owners of cats, dogs and other animals will understand that love for them cannot be measured in words. They become a wonderful part of your life, and you don't want to part with them even for a few hours. What can we say about the situation when you are planning a multi-day trip?
Not all of our little friends tolerate traveling well. Sometimes you don't have anyone to leave them with, and pet-friendly hotels are questionable. So, if you've decided to take your furry (or not) family member with you, here are some tips that will definitely come in handy!
What documents do you need to travel in Ukraine
It doesn't matter if you are traveling within Ukraine or abroad: both options require careful preparation. For any tour, you definitely need to have a veterinary certificate (form No. 1 ).
The official letter is issued by a doctor on the basis of a passport. It is required for transportation of animals by any means of transport. The certificate will indicate what kind of pet it is, where, who, and on what certificate it is being transported, as well as details about all preventive treatments and diagnostic tests.
What documents do you need to travel abroad?
Before planning a trip, you need to study in detail the rules for importing birds and animals into the territory of the chosen country. However, in most cases, there are basic requirements described on the website of the Center for Animal Control:
Your cat, dog, or hamster must have an electronic microchip. It must comply with the SO11784 or SO11785 standard and contain a 15-digit digital code from which information is read. It is this code that will be used to recognize the pet when crossing the border. This applies to all pets.
Starting June 1, 2018, owners of four-legged animals and others will need to have a new international document. It is issued after a clinical examination and all the necessary treatments. You can get such a certificate at state veterinary institutions, as well as in private veterinary clinics that are authorized to provide the service.
The document must be filled out in one of the European languages. The records are confirmed by the seal and signature of the doctor. The certificate must also contain a note on the identification of the animal (microchip number).
All necessary doses should be injected no less than a month and no more than a year before departure. And then you need to get a certificate of examination for the presence of rabies antibodies. It is carried out by the only Kyiv laboratory in Ukraine no earlier than 30 days after the date of vaccination and no later than 3 months after it. However, the owner does not have to go to the capital for the examination. The veterinarian can send the sample for analysis and issue you a certificate after the examination.
With the above documents, the owner must apply to a state veterinary medicine institution to obtain Form No. 1. It is issued before each trip abroad. It indicates where you are going and is duplicated in your passport.
This form is the basis for issuing an international certificate approved by EU regulations. It is provided by a state veterinary inspector at the border. Also, transportation of a pet by train or plane requires a paid baggage receipt.
Certificate of breeding value and import permit
It is not necessary, but sometimes customs officers have questions about the genotypic value of the animal. To avoid problems, you should have a document with you. You can get it from an officially registered cynological (for dogs) or other specialized organization in Ukraine.
Also, some EU countries, Japan, and the United States sometimes ask for an import certificate. This is a collective form about the listed measures taken, filled in in the language of the country you are going to. It is issued by the sending veterinarian (with a stamp and signature). You can find out the rules for the transportation of animals in a foreign veterinary service.
Rules for traveling with pets by train
Since Ukraine's airspace is closed and our citizens most often travel by rail or car, let's talk about this as well. To travel within the country by train, you need to have a baggage receipt and a valid veterinary certificate.
Do you have a dog? Write it down:
For small dogs, you need to buy a bag or other container with a waterproof bottom. Small puppies should be kept in hand luggage.
For large four-legged friends (45 cm at the withers), you should buy a muzzle and leash. They are transported in a separate compartment (no more than 2 animals). In this case, the owner is obliged to buy all available seats. You can travel with animals in a sleeper train provided that you buy all unoccupied "beds".
In reserved seats on night express and passenger trains, 2nd class locomotives "Regional Express", and IPs are allowed to travel with 2 small dogs in crates, baskets, cages or containers with a water-absorbing bottom, which are placed in slots intended for hand luggage (in the hands of the passenger or under the seats).
Large breeds can be transported in the outer vestibules of the first and last cars. The owner must be nearby. Small representatives are placed under the seats in special carriers (no more than 2 animals).
You can take 2 small dogs with you on international trains with neighboring countries by placing them in special containers that are placed instead of hand luggage. Large dogs or dwarf puppies without special containers can be transported only in compartment cars, provided that all shelves are purchased.
Rules for transporting cats, birds and small pets
Small pets and decorative birds can be transported without any restrictions.
It is not necessary to buy all the seats in the compartments of domestic trains.
Animals must be in a crate, basket or cage and placed on the shelves reserved for hand luggage.
These rules apply to all categories, except for reserved seats in SV cars, where you still need to book all the shelves.
In international trains, such animals can be transported only in a separate compartment.
Transportation is paid for any animal or for each piece of baggage.
If it's a car trip
The traffic code does not say anything about the rules for transporting pets by car. The main thing is that the "cargo" should not interfere with the driver's driving.
While traveling, pets can be in the luggage compartment or in the cabin. It is better if they are in a carrier. Place your pet in the back seat of the car, because if the airbag deploys, it can injure it.
Often, owners are happy when their dog sticks his head out of the window, but this is dangerous. He can get injured by debris particles or get sick from breathing in cold air. Another important tip: try to stop often to rest. The animal needs to move around and do all the "business": go to the toilet, eat, etc.
In fact, this is enough to make it safe and comfortable for both the person driving and the unofficial member of your family in the passenger seat.
Earlier, OBOZREVATEL told you how to pack your suitcases for a trip.
Only verified information is available on the Obozrevatel Telegram channel and Viber. Do not fall for fakes!