Trending:
What is jayma and how to cook it: a recipe for a hearty dish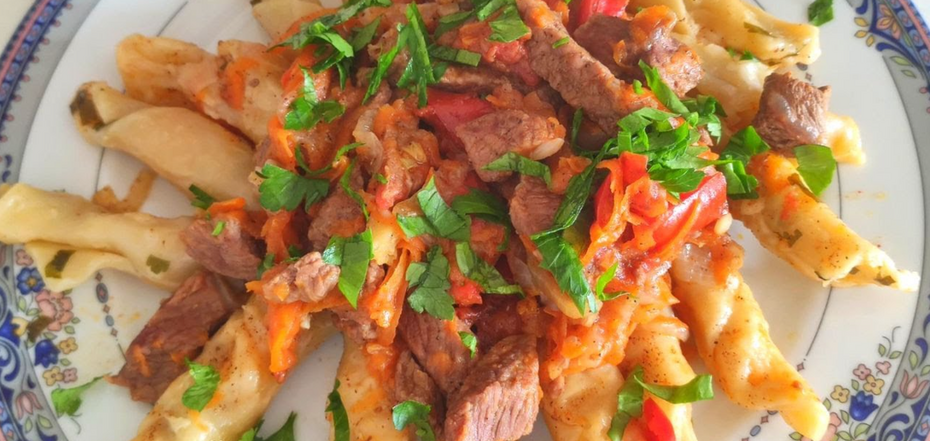 Kazakh recipe for jaima. Source: Screenshot from the post https://www.instagram.com/appetizing_melody/
Jaima is a traditional Kazakh dish. It is a stew of meat and the so-called "pipes" of dough. It is a very tasty combination, which is prepared easily and from available ingredients, ideal for lunch or dinner for the whole family.
One of the culinary blogs(appetizing_melody) on Instagram posted a recipe for Kazakh-style jayma, which you can make quickly and easily.
Ingredients:
flour - 350 g
egg - 1 pc
salt
vegetable oil - 2 tablespoons
water - 130 ml
parsley
meat - 500 g
onion - 1 pc
garlic - 3 cloves
tomato - 1 pc
salt, pepper, paprika
parsley
Method of cooking:
1. To prepare the dough, mix the flour, salt, egg and water. Knead the dough, it should be soft and elastic. Wrap it in clingfilm and leave at room temperature.
In the meantime, cut the meat into pieces and roast on both sides for a few minutes.
3. Chop and add onion. Fry until soft.
4. Grate and add carrots. Stir and stir-fry for a few minutes.
5. Slice garlic and tomatoes. Add to the meat. Also add spices, pour water and stew until tender.
6. Next, cover the work surface with flour and roll out the dough. Grease it with vegetable oil and sprinkle with parsley. Cut the dough first into strips, then into medium squares. Roll each square into a tube.
Earlier OBOZREVATEL reported what palyushki are and how to cook them.