Trending:
Hungarian potatoes: how to fry the vegetable correctly and deliciously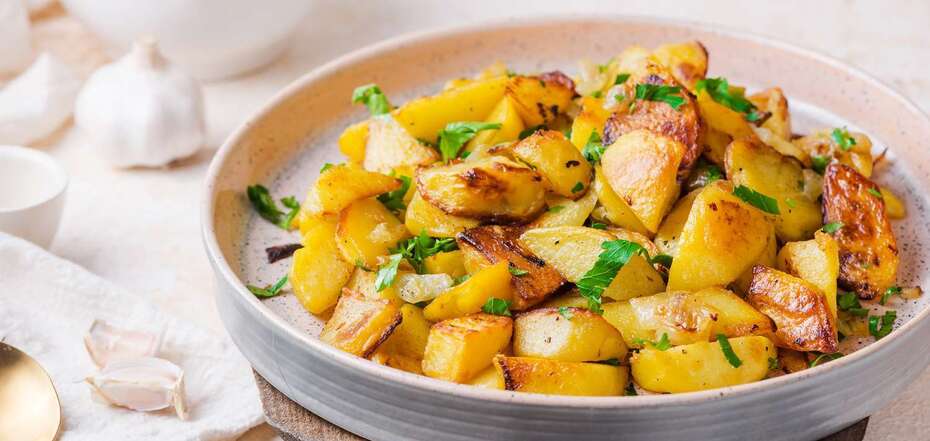 Fried potatoes. Source: thespruceeats.com
Fried potatoes - this is a simple and quick recipe, how you can prepare the vegetable. Most often it is fried with mushrooms, meat, vegetables, sausages and lard. The most important thing in cooking is to coarsely cut the ingredients, especially the potato, so that it does not fall apart in the frying process.
Food blogger Maria Mikhalchenko(smakoluk.ua) on her Instagram page shared a recipe for Hungarian-style fried potatoes with vegetables and sausages.
Ingredients:
potatoes - 1 kg
onion - 1 pc
pepper - 1 pc
sausages - 200-400 g
sweet paprika - 1.5 tsp.
smoked paprika - 0.5 tsp.
spicy paprika - 0.5 tsp.
dried garlic - 1 tsp.
parsley - 1 bunch
Method of preparation:
1. First wash and coarsely chop the potatoes. There is no need to peel them.
2. Cut the onions into slices, cut the peppers in the same way as the potatoes, chop the parsley.
3. Heat a frying pan with vegetable oil and fry the potatoes until almost cooked through.
4. Add onions and sausages (if raw, but if smoked - later). Fry until lightly golden.
5. Add pepper, sausages (if raw) and spices. Roast for another 5 minutes.
6. Add the herbs and turn off the heat. Cover with a lid and leave to infuse for 5-10 minutes. Bon appetit!
Also on OBOZREVATEL you can read the recipes: