Trending:
Pugacheva published the post before May 9, which caused a mixed reaction on the network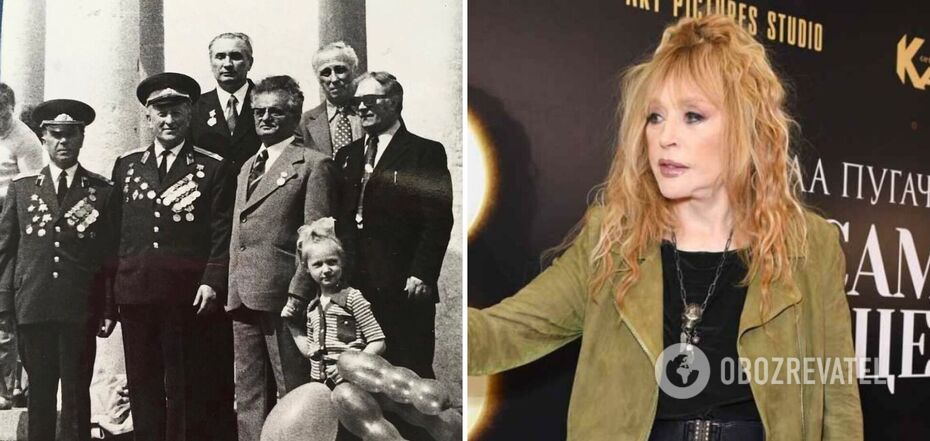 Alla Pugacheva published a post for May 9
The famous Russian singer Alla Pugacheva, who has been living abroad with her children for more than a year now because her husband, showman and comedian Maxim Galkin, openly condemns the war and Putin's regime, published a post on her social media dedicated to May 9. Today, cynical "victory parades" are being organised in Russia. The day when Nazism was defeated in World War II has been disfigured to the point of outrage. Now Russia itself has become an aggressor country that has viciously attacked an independent state and is trying to destroy it by the most brutal means.
The prima donna posted a series of pictures with World War II veterans on her Instagram page. In her post, she hinted that people who went through real hell fighting Nazi Germany would never have allowed what Putin's Russia is doing now.
One of the pictures was taken when Pugacheva was a child. In the black-and-white photo, little Alla poses surrounded by mature men with medals. In other pictures, the singer is already an adult, and the veterans have noticeably aged.
"Where are you now, my friends, my fellow soldiers? I miss you so much today," the artist captioned the footage.
An adequate part of the star's followers, who are mostly Ukrainians, caught the message of the diva's post. The singer did not throw around loud words about the "great victory", because she is aware that while the whole world is hoping for "Never Again", in Russia they are chanting: "We can do it again".
"Those who went through the war, who know the price of victory, would never have allowed the horror that is happening today." "What would my grandfather and father, who fought in that terrible war, say if they knew that Russia was bombing Ukraine? Thank God they will never know about it", "It's good that veterans do not see Russia's war in Ukraine. Peace and tranquillity left with them. Now it's hard to call this day a holiday", "Last night in Kyiv, my family was woken up by a very loud explosion, it was our military who shot down a Russian missile, there were 15 of them in Kyiv, all of them were shot down, but the shrapnel fell on our houses and yards. The Russians are doing it, the Russians are allowing it," the commentators wrote.
However, a lot of Z-patriots also gathered under Alla Borisovna's post. They reacted to the prima donna's words with traditional hysteria and accusations of "treason".
"And you turn to face the people and see your fellow soldiers, bitter that you betrayed your homeland and the people who live in Russia," "The question is the opposite, Alla Borisovna, where are you? Why are you not with the people? Why not with the country? I am sure that my fellow soldiers would not have run away in difficult times for their country", "So I want children to live without Nazism and those who are ready to destroy Russians just because they are Russians", "Crimea has come home. It's you, like prodigal children, who are running around the world," the inadequate Russians write.
Recall that Pugacheva and Galkin sold their famous castle in the village of Gryaz near Moscow. It became known that it was bought by a scandalous Russian showman and producer, former member of the band Leningrad, Stas Baretsky. He said he planned to turn it into a morgue. Read more in our article.
Earlier, OBOZREVATEL wrote that during the full-scale war, Pugacheva has repeatedly caused hysteria among Kremlin propagandists who do not like the "unpatriotic" position of her compatriot. Recently, Margarita Simonyan has also become furious about the prima donna. She is very concerned that the artist has returned to Moscow, where, to the Putinist's great disappointment, no one is driving her away, but rather warmly welcomes her. Details are available here.
Only verified information on our Telegram-channel Obozrevatel and Viber. Do not be fooled by fakes!