Trending:
Make no mistake! Five shades of hair that will age you by 10 years and emphasize all the flaws. Photo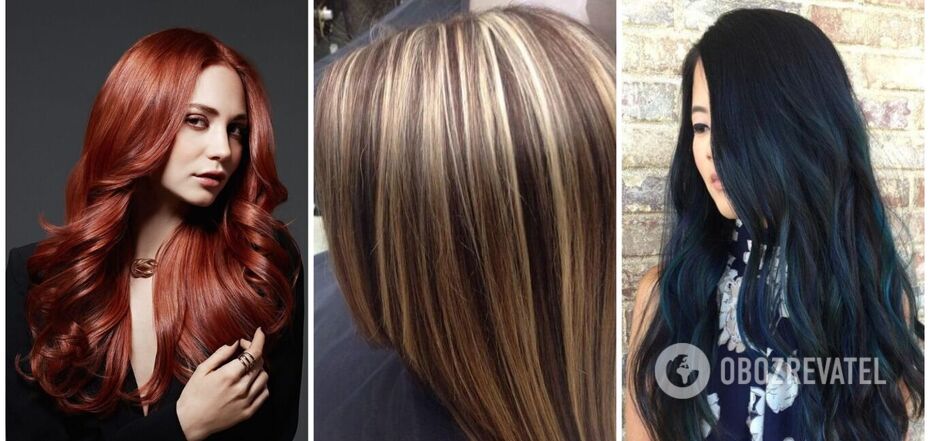 Hair shades that will age and highlight flaws
When do we go to a hair stylist? When we want to refresh the image, to make it more spectacular, and to make ourselves more confident. One of the ways to achieve this result is to change the hair color or to play with the existing shade, making it either darker or, on the contrary, lighter. However, we don't always get the desired effect, because there are colors that not only don't refresh the image, but also make it look old.
Improperly selected hair color can make all the age-related changes on the face very noticeable. The pale and thin skin, wrinkles, black eye and other irregularities can, of course, be concealed with makeup. However, the "aging" shade of hair will still play a cruel joke. To avoid problems, it is advisable to avoid these colors. We will tell you which colors you should avoid in detail in the article published by OBOZREVATEL.
Navy Black
Deep black is a categorical no, unless you want to look older than your years. This saturated color insidiously emphasizes all the flaws on your face. Of course, we are talking about "artificial" black, not natural. A special emphasis is placed on the so-called blue-black. You may have noticed that even this dark achromatic color has a huge number of undertones: it can be reddish, shimmering chestnut or the color of chocolate. But if you see a blue undertone, run and don't look back. It will add an extra 15 years to even a very young beauty.
Highlighting
Fashion from the noughties is making a comeback. Low cut jeans, tops like Britney Spears in her best years, tight glasses and more. It's all at the height of popularity. Does this mean that the highlights that were popular about 20 years ago will be back in fashion, too? Stylists assure that no. Moreover, they warn that such coloring looks old, looks cheap and also saps the volume. As an alternative, try contouring and highlights. Properly highlighted strands at the face refreshes its color and adds volume to the hair.
Fiery red
Red after 40 looks beautiful only on ladies with porcelain skin. And if we are talking about its brighter shades, it is better to give them up after 30. This capricious color, which borders on the anti-trendy burgundy or red, will make a fair face look painfully pale, and will turn a swarthy face into a menacing and gloomy one. In addition, you run the risk of emphasizing the veins on your face.
Yellow-red
From fiery red to its "pale brother. A sickly yellowish skin tone is guaranteed with this hair. The hair of the pale brother of redheads is guaranteed to give you the most natural-looking shades of red, and you can do it if you really want to be like Julianne Moore or Nicole Kidman back in the day.
Eggplant
Such shade of hair will add inappropriate gloominess and cheapness to the image, will emphasize unevenness and dullness of the skin. Eggplant looks especially bad on gray hair - you will have to dye it twice or even three times more often to make the gray hair not so noticeable.
Earlier OBOZREVATEL wrote about the mistakes of women over 50 years, which add age. What was relevant in 30, can negatively affect the appearance at a more mature age.
Only verified information in our Telegram-channel Obozrevatel and in Viber. Do not be fooled by fakes!